CF COMPACTFLASH TO IDE ADAPTER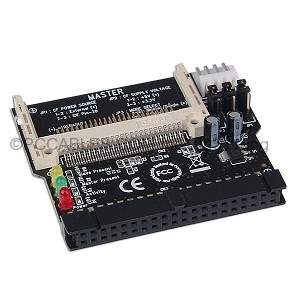 Use your CompactFlash memory card as an IDE drive with this IDE to CF Adapter! Key features include a 40-pin IDE connector, supports DMA & Direct Insertion and is fully compatible with CompactFlash Type I/II and Microdrive memory cards! Create your own Internal Flash Drive.
Great for backup and Hi Speed Access.

---
IDE to CF Adapter (Supports DMA & Direct Insertion)
Compatible with CompactFlash Type I/II and Microdrive memory cards
Supports DMA & Direct Insertion
Supports Ultra DMA mode CF Card
Direct insertion into any 40-pin motherboard IDE connector
LED indicators for power, master/slave card detect and read/write activity
Supports +3.3V and +5.0V CF card by jumper setting
Power input: +5V supplied from floppy disk connector, or from Pin 20 of the 40-way IDE connector when used on a VIA EPIA series embedded motherboard
RoHS compliant