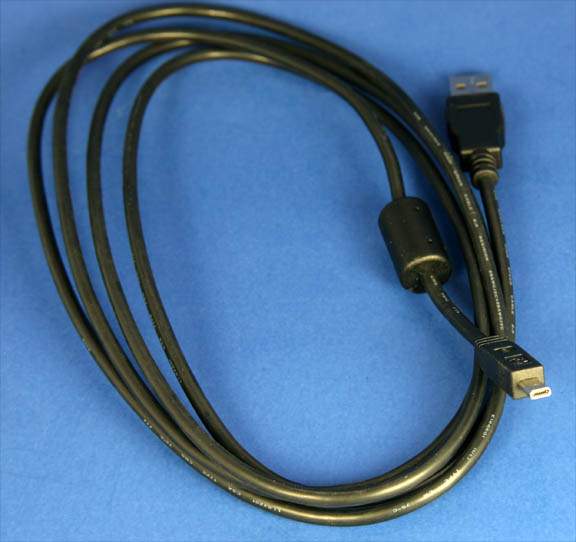 Fuji USB Camera Cable Designed for Digital Cameras
This is the Smaller Molding Connector that Fits Well into the Housing on FUJI Cameras.
Uses 2.0 Compatible Cable which is downward compatible with 1.1 and 1.0 USB Standards
Include Ferrite Core.
4 Ft Long
Has Special USB Connector on One Side.
Which our technicians like to call a Flat-8 Connector in Reference to the Porsche flat-8 Engine
Made By PCCABLES.COM Inc.

---
Partial List of Compatible Devices
CAMERA
FUJI
FinePix A100
FinePix A150
FinePix A160
FinePix A170
FinePix A175
FinePix A180
FinePix A220
FinePix A230
FinePix A234
FinePix A235
FinePix A850
FinePix A860
FinePix AX200
FinePix AX350
FinePix AX500
FinePix AX560
FinePix C10
FinePix C20
FinePix F650
FinePix F70
FinePix F70EXR
FinePix F75
FinePix F75EXR
FinePix J10
FinePix J100
FinePix J110W
FinePix J12
FinePix J120
FinePix J150W
FinePix J15fd
FinePix J20
FinePix J25
FinePix J26
FinePix J28
FinePix J29
FinePix J30
FinePix J32
FinePix J33
FinePix J37
FinePix J38
FinePix J50
FinePix L30
FinePix S1800
FinePix S1850
FinePix S2000HD
FinePix Z10
FinePix Z100
FinePix Z100fd
FinePix Z10fd
FinePix Z200fd
FinePix Z200FW
FinePix Z20fd
FinePix Z250fd
FinePix Z30
FinePix Z33
FinePix Z60fd
FUJI FinePix XP50
P645-083-1355