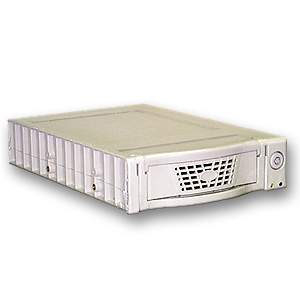 Mobile Rack-Removable HDD Bay UDMA/66
Not Tray Compatible with our Part# 07201
Unit Dimensions Are
6x9x1.75 inches
Notes/Specifications
- Retail Boxed Removable Hard Drive Rack
- Takes all UDMA/1200, UDMA/66, UDMA/33, Standard IDE Devices
- Very high quality and specially designed for UDMA/66
drives (is downward compatible) with UDMA/66 Internal Cable
- For 3.5 Inch Hard Drives, Zip, LS-120 etc
- Mounts into a 5.25 inch bay
- Keylock (Two Keys Included) Prevents Unauthorized Access
- Dust cover pops into place when drive is removed
- Extra Cooling fan built into drive rack
---
Compatibility/Requirements/Disclosures:
* While the price of this unit might make you think it is
of lower quality, in fact it is not. The extra cooling
fan and the high quality cabling that allows for UDMA/66
7200 rpm hard drives make this a very attractive buy
** IMPORTANT: This model supports UDMA/100 as well as UDMA/66!!