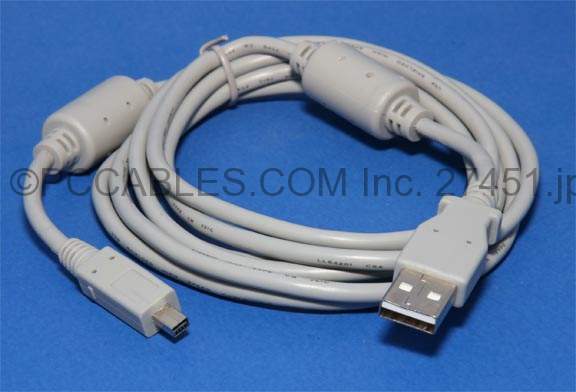 Product Features

Compatible with PC and Mac, this USB 2.0 cable delivers a data transfer up to 480 Mbps. Has metal connector shield that meets FCC requirements for EMI/RFI interference. Premium Dual Ferrite Cores do further Reduce EMI/RFI.

Please note the Mini USB Connector is a Very Small Retangle Shape.

Casio QV-2000 QV-2300 QV-2900 QV-3EX QV-3000 QV-3500 QV-8000SX

Fuji FinePix 1300 1400 2200 2300 2400 2600 2650 2800 3800 4700 4800 4900 6800 6900

Technical Details

* Brand Name: PCCABLES
* Model: 27451
* Left Connector Type: 4 pin USB Type A
* Left Connector Gender: Male
* Right Connector Type: Mini-USB Type B
* Right Connector Gender: Male
* Warranty: Limited lifetime warranty
Similar in Design but with Premium Dual Ferrites to the Cables to Go Version 27451.
Those not sure of this model Should use our CAMERA FINDER on Left.