ALL Orders placed today will Ship on July 29th
Summer Break.
---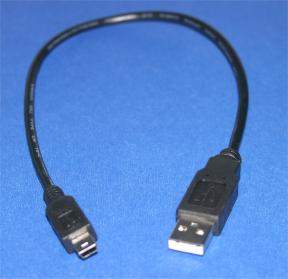 12 Inch FT USB A to Mini-B 5 Pin Cable
USB to Go
Excellent Small Cable to put in Camera Bag and Take with you.
Works on all cameras using our Part #70517
This professional Grade Cable Uses 2.0 Certified wire.
This connector design follows USB 2.0 Paper on Mini-B Connectors.
Used alot of Small Perpherials: Digital Cameras, MP3 PLayers
Also all 5 - Contacts are in one row along the Bottom
Connector Dim are 5/16" x 1/8"