HDMI to HDMI PREMIUM Cable 46m 150FT 24AWG With Equalizer CL2 Max Rez 1080i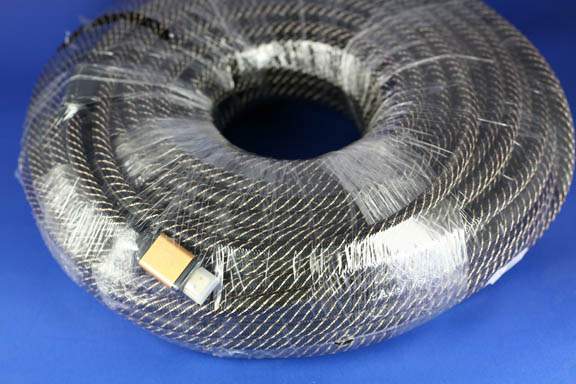 150 Feet HDMI to HDMI V1.3 24AWG Cable MAX RESOLUTION 1080i Gold plated connectors, Built-in Equalizer
High-Definition Multimedia Interface (HDMI) is the first industry-supported, UNCOMPRESSED audio/video interface. This cable connects HDMI devices for DVD, satellite boxes, LCD, projectors, plasma and HDTVs. HDMI provides an interface between any HDMI-enabled audio/video source, such as a set-top box, DVD player, and A/V receiver and an audio and/or video monitor or projector.

Features:
HDMI to HDMI Thick 24AWG CL2 Rated Cable, Built-in Equalizer Leight: 150 Feet
Works in all resolutions up to 1080i
Premium CL-2 Rated Cable.
HDMI supports standard, enhanced, or high-definition video, plus multi-channel digital audio on a single cable. It transmits all ATSC HDTV standards and supports 8-channel digital audio, with bandwidth to spare to accommodate future enhancements and requirements.
Rated CL2 for In Wall usage.
HDCP Compliant

PCCABLES.COM Stands behind every product we sell.

Competitors Similar Products
Belkin AV52300b100 a Similar cable that does not have the Equalizer for $400.00
Gefen EXT-HDMISB-150 HDMI Super Booster Cable $449.95

Installation Instructions.
Plug SOURCE end into DVD Player, HD Receiver, Play Station 3, XBox 360
Plug SINK-DISPLAY end into DISPLAY.

UPC:820799018015