USB 2X4 MATRIX Switch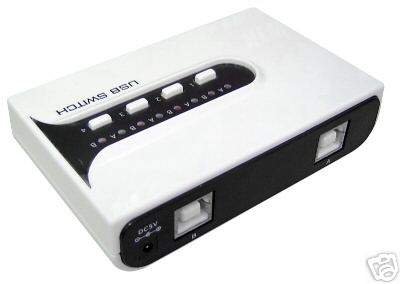 USB 2.0 Sharing Switch 2x4 Matix
Two PCs Sharing Four USB Devices with Cross Over "plug-n-play"
Usage:
So you have two computer and want to share 4 devices or Less.
This is the Ticket.
Let you share a printer or any USB device such as pen drive, scanner, USB hub etc and up to two computers.
Simply but effective works with USB-enable Windows or Mac, or Linux computers.
Features:
4-Port USB Downstream Peripheral Switch

Buily in Downstream Gate desgin, Share 4 USB ports with 2 Computers

2 LEDs per Port Indicating Port Status

Fully Compliant with USB 2.0 and USB 1.1 Specifications.

Over Current Protection.

Included in Package:

USB 2.0 Sharing Switch 2x4 Matrix

Qty-2 USB 2.0 Cables 5FT

Power Adapter 5V at 2.9 Amps
Ports:
4 - USB A-Ports Female for Connecting to Devices.
2 - USB B-Ports Female for Connecting to Computers.
Note: No Software switch occurs only manual switching throught the Buttons on the Devices

UPC:820799300815