50FT SVGA Monitor HD15 Male to Male QUICK SNAP CONDUIT FEED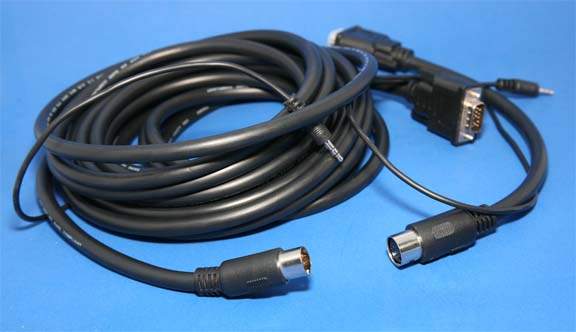 Connects any VGA video with audio to any computer, switch or splitter with HD15/3.5mm stereo female ports. This cable feature a "Quick Snap" connection approx 12 inches from one of the end allowing you to easily connect, and disconnect the cable for easy installation in a tight place or conduit.
This premium commercial grade combo cable eliminates clutter and improves cable management.
* Supports all SVGA monitors including analog flat panel display, high resolution desktop, CAD and graphic workstations.
* Quick Connect maximum diameter: 3/4"
* Triple shielding for maximum graphics performance, prevents signal loss, screen ghosting & loss of color and works up to 200ft without a signal booster.
* UL listed, have matched impedance, PVC jacket
* CL-2 (Class 2) AND FT4 (CSA) Rated, RoHS
* 28 AWG
* Molded ends with thumbscrews
* Inner hood soldered 360 degrees to the connector for complete end to end shielding.
* Note: The stereo audio cable is 15inch on both ends.
* Connectors: HD15/3.5mm Male to Male
* Length: 50ft
Ideal for hooking up desktops and laptops to HDTVs that can accomodate a VGA/RGB 15pin input and a 3.5mm audio input. VGA and audio cables "split" allowing for the VGA connection, and audio to run up to a 12inch different direction.
UPC:820799107035