Firewire Repeater Extension Cable 5 Meter IEEE-1394a 6PIN 5M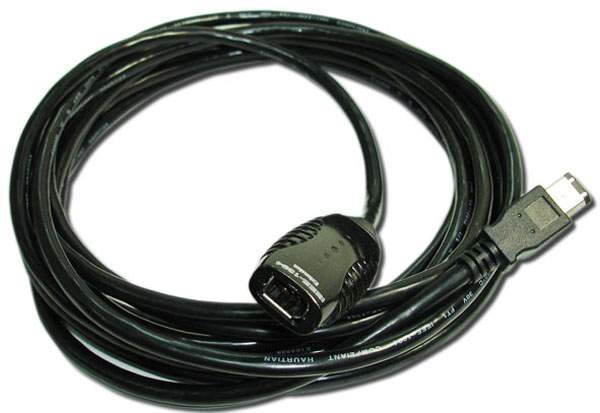 FIREWIRE 1394 Active Repeater Cable
6-Pin Male to 6-Pin Female 5 Meters Long Firewire Extension Cable

The Specifications for firewire (also known as i.Link and IEEE-1394)
You can use three of these in a row without supplying additional Power.
After three units an additional Powered hub can be installed and more
extensions can be added to a Max overall length of 50 Meters.
---
OS supported.
Although others should work fine.
Windows 98SE
Windows 2000 Pro
Windows 2000 Server
Windows NT
Windows XP
Windows VISTA
Windows VISTA 64
Windows 7
Windows 8
Windows 10
Windows 11
Macintosh OS 8.6 and higher
---
Installation.
Install the Male 6-Pin End into a powered FIREWIRE Port.
Install additional Cables onto the Female side.
Chipset Information:
2023 - New Texas Instruments TI Repeater Chipset.
Other Part Numbers Representing Similar item.
Sewell Part #: SW-1101
Mfg Part #: FW-X-4.5M
GoldX #: GXF-2115,GX1394-215
SFCable.com #: 1608-SF-01
NewNex #: FireNEX 400 Mbps Repeater
UPC:00753494952156