Micro-B USB-A Cable 6FT D2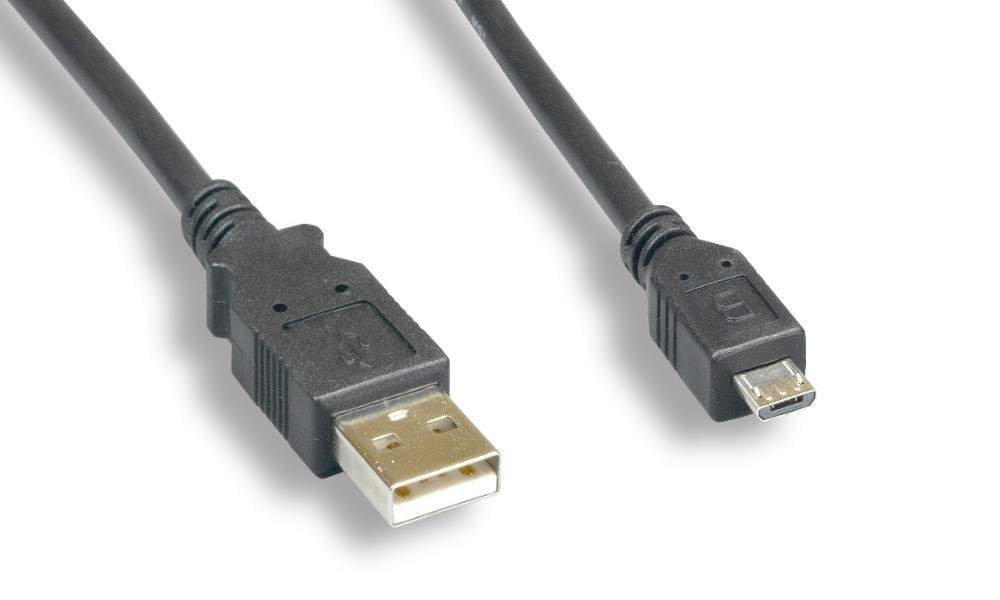 Micro-USB Type B Connector Cable
6 Feet Micro USB Data cable for new Cell Phones, USB 2.0 Type A Male to Micro-USB Type B cable Suitable for many new cell phones, GPS systems, PDAs, OTG devices and digital cameras
Features: Connector: USB 2.0 Type A Male connector to Micro-USB Type B connector
Micro-B Male cables support data transfer and power from a computer to many of the new cell phones, GPS systems, PDAs, OTG devices and digital cameras Support Data Transfer speeds up to 480MBPS
Micro-USB is smaller in size than the old Mini USB 5 pin connector.
Great for connecting your cell phone to your computer to synchronize your contact, picture, ring tones, calendars, notes, to do list, and etc.
Made with High-Quality materials to guarantee reliable, error free data transmissions
The USB Founders have come to call it MICRO-B so we will also.
USB Type-A Male Connector

USB Micro-B Connector(Drawing Copyright PCCABLES.COM INC)
Technical Drawing for Part PCC-80517
UPC:820799805172
SONY® Binoculars :
DEV-30


HP® Calculator :
HP PRIME


SONY® Camcorder :
CX900


HDR-AS10


HDR-AS100


HDR-AS30V


HDR-AX100E


HDR-GW35


HDR-GW55


HDR-GW66


HDR-PJ240E


HDR-PJ330


HDR-PJ530


KODAK® Camera :
PIXPRO AZ-521


Z990


SAMSUNG® Camera :
DV300F


SONY® Camera :
DSC-HX10V


DSC-HX200V


DSC-HX20V


DSC-HX30V


DSC-RX100


DSC-TX200V


DSC-WX100


DSC-WX150


DSC-WX300


DSC-WX350


DSC-WX50


DSC-WX70


NEX-6


NEX-F3


CALLAWAY® Gps :
UPRO MX MX+ GOLF GPS RANGEFINDER


COBRA® Gps :
Adventure HD 5200


Adventure HD 5210


CDR 835


SHURE® Microphone :
SHURE Motiv MV51


BLACKBERRY® Phone :
4G PlayBook


8220 Pearl Flip


8230 Pearl Flip


8520 Curve


8900 Curve


9350 Curve


9360 Curve


9370 Curve


9500 Storm (Thunder)


9530 Storm (Thunder Tour)


9630 Niagra


9810 Torch


9850 Full Torch


9850 Torch


9900 Touch


9930 Touch


Bold 9650


Bold 9700


Bold 9780


Bold 9930


Bold Touch 9900


Curve 3G 9300


Curve 3G 9330


Curve 8520


Curve 8530


Curve 9350


Curve 9360


Curve 9370


Curve Javelin 8900


Pearl 3G 9100


Pearl Apex 8230


Pearl Flip 8220


Storm 9530


Storm2 9550


Style 9670


Torch 9800


Torch 9810


Torch 9850 Full Touch


Torch 9860 Full Touch


Tour 9630


CASIO® Phone :
DICMUSB


Gzone Commando C771


Gzone Ravine C751


DELL® Phone :
VENUE Pro


HP® Phone :
IPAQ GLISTEN


KB1


Obsidian K3


HTC® Phone :
7 Pro CDMA


Aria A6366


Arrive 7575


Bliss PI46110


Desire ADR6275


Desire US


Droid Incredible 2 6350


EVO 3D PG86100


EVO 4G (USB)


EVO 4G 9292


EVO Shift 4G A7373


Evo View 4G PG41200


Flyer PG41120


Freestyle PD53100


G2 Vanguard


HD2


HD7


HD7S


Incredible ADR6300


Inspire 4G PD98120


Merge ADR6325


myTouch 3G Slide


myTouch 4G


MyTouch 4G Slide PG58100


Nexus One


Nexus One (CDMA)


Rhyme ADR6330


Sensation 4G PG58130


Status PH06130


Surround T8788


ThunderBolt 6400


Trophy MWP6985


Vision


Wildfire S PG76110


HUAWEI® Phone :
Ascend II M865


Ascend M860


Comet


Impulse 4G U8800


M735


M835


Pillar M615


U2800A


U8150 IDEOS


KYOCERA® Phone :
Adreno S2400


Brio S3015


Domino S1310


E1100 Neo


E2000 Tempo


Echo M9300


Jax


LAYLO M1400


Loft


Luno S2100


Mako S4000


Melo S1300


Milano C5120


Neo E1100


RIO E3100


S1300 Melo


S4000 Mako


Tempo E2000


TNT


Tomo S2410


Torino S2300


Zio M6000


LG® Phone :
290C


500G


800G


900G


Accolade VX5600


Ally VS740


Apex US740


Arena GT950


Attune UN270


AX155


AX265


AX300


AX500 Swift


AX585 Rhythm


AX830 Glimmer


AX9100


Axis


Banter Touch MN510


Banter Touch UN510


Banter UX265


Beacon MN270


BLISS UX700


CF360


CHIC


Chocolate 3 VX8560


Chocolate Touch VX8575


Clout VX8360


Cookie Style


Cosmo Touch VN270


Cosmos 2 VN251


Cosmos VN250


CT810 Incite


Dare VX9700


Decoy VX8610


dLite GD570


Encore GT550


Enlighten VS700


enV Touch VX11000


enV2 VX9100


enV3 VX9200


Envoy UN150


Esteem MS910


EXPO GW820


Fathom VS750


G-Slate


G2x


G3


Genesis US760


Glance VX7100


Glimmer AX830


GS170


GU295


Helix


Imprint MN240


Incite CT810


LG 800G


LG102


LG200


LG501C


LG830 Spyder


Lotus LX600


LX290


LX370


LX400


LX600 Lotus


Lyric MT375


Neon II GW370


NEON2


Octane VN530


OPTIMUS


Optimus 2x P999


Optimus C LW690


Optimus M MS690


Optimus S LS670


Optimus T P509


Optimus U US670


Optimus V VM670


P925


P929


Phoenix P505


Prime GS390


Quantum C900


Remarq LN240


Revolution VS910


Rhythm AX585


Rumor Touch LN510


Rumor2 LX265


Saber UN200


Select MN180


Sentio GS505


Shine 2 GD710


Swift AX500


Thrill 4G P920


Thrive P506


Tritan AX840


UX280 Wine


UX300


UX585


UX830


UX9100


Versa VX9600


Vortex VS660


Vu Plus GR700


VX5500


VX5600


VX8360


VX8560


VX8610 Decoy


VX9100 ENV2


VX9600 Versa


VX9700 Dare


Wine II UN430


Wine UX280


Wink C100


X310/ LW310/ UX310


Xenon GR500


MOTOROLA® Phone :
A455 Rush 2


A840


ATRIX 4G MB860


AURA


Backflip MB300


Bali WX415


Barrage V860


Bionic XT875


Bravo/Kobe MB520


Brute i680


Brute i686


CHARM MB502


Citrus WX445


CLIQ 2


CLIQ MB200


Cliq XT MB501


Clutch Plus i475


Crush W835


Daytona


DEFY MB525


Devour A555


DROID (USB)


DROID 2


Droid 3 XT862


Droid A855


Droid Pro A957


DROID R2D2 A955


Droid X MB810


DROID X2 MB870


DROIDX (USB)


ELECTRIFY MB855


Entice W766


ES400


ES400S


Evoke QA4


Flipout MB511


Flipside MB508


Hint QA30


i1


i296


i412


i420


i886


Karma QA1


Krave ZN4


Milestone X


PHOTON 4G


Q9


Q9h


Quantico W845


Rambler WX400


Rapture VU30


RAZR VE20


RAZR2 V8


RAZR2 V9


RAZR2 V9m


RAZR2 V9x


Renegade V950


Rival A455


ROKR E8


Theory WX430


Titanium XT800


TRIUMPH WX435


Tundra VA76r


V750


V750 Adventure


V950 Renegade


VE20


VE440


World Edition Z6c


XPRT MB612


XT610


Z9


Zine ZN5


NEXTEL® Phone :
Clutch i465


Debut i856


i410


i576


i776


Stature i9


NOKIA® Phone :
1006


1606


2605 Mirage


3120 classic


3600


3606


5130 XpressMusic


5220 XpressMusic


5320 XpressMusic


6205


6210 Navigator


6212 classic


6350


6500 classic


6500 slide


6555


6600


6650 Fold


7210


7610


7900 Prism


8600 Luna


8800 Arte


8800 Carbon Arte


8800 Saphire Arte


Astound C7


CA-101


Classic 8600 Luna


E66


E71


E73 Mode


Intrigue 7205


Mirage 2605


Mural 6750


N79


N81


N810 Internet Table


N810 WiMAX


N82


N85


N97


Shade 2705


Snapper


Twist 7705


X2


X7-00


PALM® Phone :
Castle


Eos CDMA


Eos GSM


Pixi


Pixi CDMA


Pixi GSM


Pixi Plus


Pixi Plus (GSM)


Pre 2


Pre Plus


Pre Plus GSM


Treo 800w


Treo Pro (CDMA)


Treo Pro 850


PANTECH® Phone :
Breakout ADR8995


Breakout ADR8996


Breeze III P2030


Caper TXT8035PP


Crossover P8000


Crux


Ease P2020


Jest TXT8040


Laser


P2020


P2030


Pursuit II P6010


SAMSUNG® Phone :
A187


A197


Acclaim R880


Behold II T939


Caliber R850/R860


Captivate I897 Galaxy S


Character SCH-R640


Chrono SCH-R260


Chrono SCH-R261


Code i220


Comment SCH-R380


Conquer 4G SPH-D600


Continuum i400


Contour R250


Convoy 2 SCH-U660


Craft R900


Dart SGH-T499


Droid Charge SCH-i510


Epic 4G D700 Galaxy S


Epic 4G Touch SPH-D710


Eternity II A597


Evergreen A667


Exclaim M550


Exec i225


Exhibit 4G SGH-T759


Factor SPH-M260


Fascinate i500 Galaxy S


Flight A797


Flight II SGH-A927


Focus i917


Freeform II R360


Freeform III


Freeform R350/R351


Galaxy Indulge SCH-R910


Galaxy Prevail SPH-M820


Galaxy S 4G SGH-T959V


Gem SCH-I100


Google Nexus S GT-I9020T


Gravity 3 T479


Gravity SMART SGH-T589


Gravity T T669


Gravity TXT SGH-T379


GT-i7500


GT-i8000 Omnia II


GT-M8910


GT-S5600


Gusto U360


Haven U320


Highnote M630


Infuse 4G SGH-i997


Instinct HD


Intensity II U460


Intercept M910


M220


M240


M320


M330


M360


Mesmerize i500 Galaxy S


Messager II R560


Messager III R570


Messager Touch R630


Moment M900


MyShot II R460


Mythic A897


Nexus S 4G SPH-D720


Omnia II i920


Profile R580


R561


R631


Rant M540


Reality U820


Reclaim M560


Replenish M580


Restore M570


Rugby II A847


SCH-R460 Myshot 2


SCH-R470 TwoStep


SCH-R560 Messager 2


SCH-R640 Character


SCH-U365 Gusto 2


Seek M350


SGH-T379 Gravity TXT2


SGH-T528G


SGH-T839 Sidekick 4G


SMILEY T359


Solstice II A817


SPH-D710 Epic 4G Touch


SPH-M220


SPH-M320


SPH-M540 Rant


SPH-M550 Exclaim


SPH-M560 Reclaim


SPH-M630 Highnote


Stride R330


Strive A687


Stunt R100


Suede R710


T249


T259


T369


Transform M920


Trender SPH-M380


TwoStep R470


U370


Vibrant T959 Galaxy S


SANYO® Phone :
Incognito SCP6760


Innuendo 6780


Juno 2700


Katana Eclipse


Katana Eclipse X


Katana LX


Katana LX SCP-3800


Mirro SCP3810


Pro-200


Pro-700


S1


Taho E4100


Vero 3820


Zio M6000


SHARP® Phone :
FX/STX-2


KIN ONE


KIN TWO


SONY-ERICSSON® Phone :
Tablet S SGPT111US/S


Vivaz a


XPERIA Play 4G


XPERIA Play R800x


ZTE® Phone :
Agent E520


F160


Salute F350


Score X500


Z221


MOTOROLA® Radio :
CXT1095


ACER® Tablet :
ICONIA TAB A501


GOOGLE® Tablet :
Nexus 10


Nexus 7