Dual 9 Pin Motherboard Header Quad 4 USB 2.0 Female Port Cable Rear Slot Bracket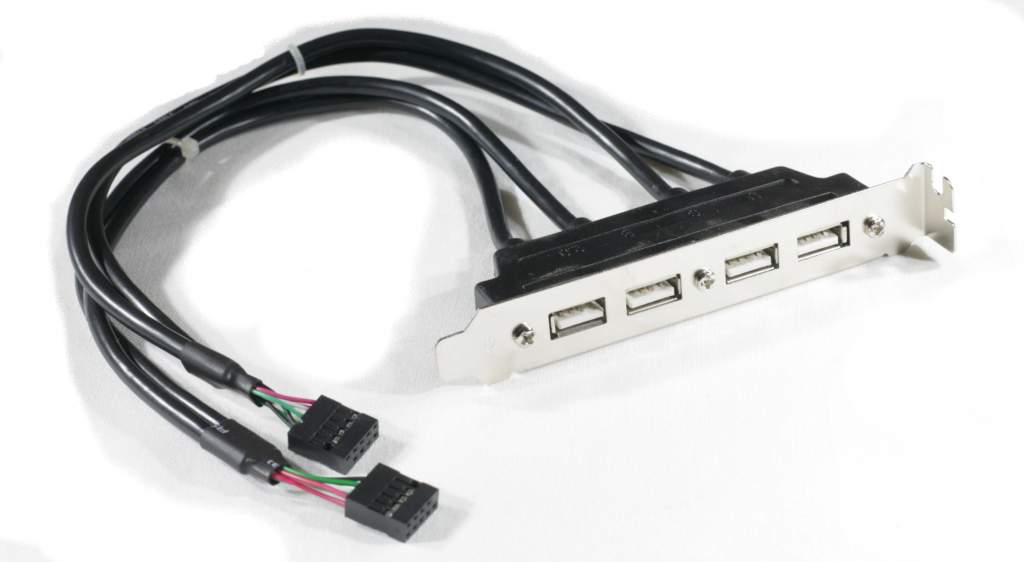 Cable is Black as Pictured.
This is a USB motherboard cable to external 4 ports USB bracket. It is a cable to connect to motherboards to use 4 ports external USB ports. The 4 Port USB 2.0 Motherboard Cable is simple to install.
Description:
This Motherboard Cable to External 4 Port USB Bracket.
This Motherboard USB Bracket connects USB from motherboard connector to an external backplane on back of computer.
Add 4 external USB ports to your computer.
Easy installation
MainBoard USB Bracket is compatible with motherboards that have a USB header.
Weight: 83g
Quad Port USB (Universal Serial Bus) 12 Inch
Cables and Backplate from motherboard to back of case.
Allowing External connection of USB 4 (four) TYPE A connectors.
Two sets of 10 pin row connectors to connect to main board.
---
Each Double Port can be connected to only one 2x5
Note Pin 10 is Blocked.
Image below would be view on the Board

Pins 1-5 are USB-1
Pins 6-9 are USB-2
and on Second Connector
Pins 1-5 are USB-3
Pins 6-9 are USB-4
---

Cable Pin Out
USB Port-1
Pin	Color	What is Does
1	Red	+5 Volt
2	White	Port 0 Data-
3	Green 	Port 0 Data+
4	Black	Power Ground
5	Black	Ground

USB Port-2
Pin	Color	What is Does
6	Red	+5 Volt
7	White	Port 0 Data-
8	Green 	Port 0 Data+
9	Black	Power Ground
10      BLOCKED PIN
USB Port-3
Pin	Color	What is Does
1	Red	+5 Volt
2	White	Port 0 Data-
3	Green 	Port 0 Data+
4	Black	Power Ground
5	Black	Ground 
USB Port-4
Pin	Color	What is Does
6	Red	+5 Volt
7	White	Port 0 Data-
8	Green 	Port 0 Data+
9	Black	Power Ground
10      BLOCKED PIN

Easiest Way to install these is to check for the 5Volt + Red Wires
Compatible Wires: COMLINK 170-2876
UPC:820799704972
EBAY® :