COVID-19 - PCCables.com is open for Business.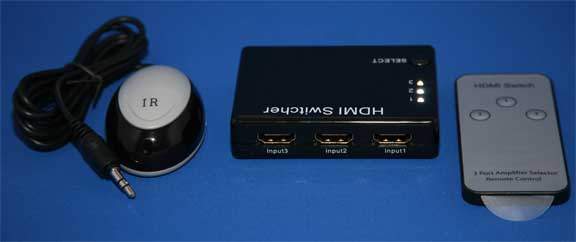 HDMI 3x1 Mini HD Digital Switcher v1.3b - 25m Amplified w/ External IR Receiver+Remote
The 3x1 HDMI mini switcher routes high definition video (in multiple resolutions up to 1080p) and digital audio from any one of the three sources to display unit. Three inputs accommodate the simultaneous connection of up to three high definition video sources, such as satellite systems and HD DVD players. The output sends the high definition audio/video signals to a high definition display. Aside from the manual switching, the switching can also done via the IR remote that is provided with the unit for added convenience. The compact design eliminates the bulk of an HDMI switcher while still having the same functionality.
Features:
No power supply needed. External IR receiver base w/ remote
Switch easily between any three HDMI sources
24k gold platted connector
Extends the range of HDMI compliant device by equalizing and re-clocking the HDMI signal
Maintains high resolution video - beautiful, sharp HDTV resolutions up to 1080p, 2k and computer resolutions up to 1920 x 1200 are easily achieved.
Discrete IR remote (included)
HDMI pass-through
Pocket Size
Specifications:
Video Amplifier Bandwidth ............................................... 140MHz
Input Video Signal ................................................. 0.5-1.0 volts p-p
Input DDC Signal .................................................. 5 volts p-p (TTL)
Maximum Single Link Range .............................. 1280 x 1024, 1080p
DTV / HDTV ...................... 480i/576i/480p/576p/720p/1080i/1080p
Output Video ..................................... HDMI 1.3+HDCP 1.0/1.1/1.2
Power Consumption .................................................. 15 Watts (max)
| | | | | |
| --- | --- | --- | --- | --- |
| Features | | | Video Capabilities | |
| HDMI inputs | Three | | Passes 1080p/60 | Yes |
| Long cable run | Yes | | Passes 1080p/24 | Yes |
| Discrete input remote codes | Yes | | Audio capabilities | |
| Average switch time | 5.35 seconds | | Passes multichannel LPCM | Yes |
| Average switch time (with receiver) | 5.84 seconds | | Passes Dolby TrueHD or DTS-HD Master in bitstream format | Yes |