COVID-19 - PCCables.com is open for Business.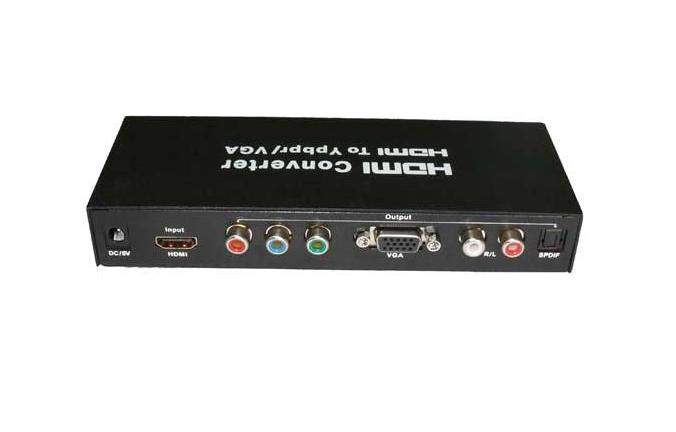 HDMI to VGA Converter
The Converter use a single HDMI source, accessing to single VGA + SPDIF sink or single YPbPr + SPDIF sink. This converter allows one HDMI device to be converted easily to one VGA + SPIDF or one YPbPr + SPIDF/(R + L) monitor or projector. Our devices offers solutions for noise, space and security concerns, data center control, information distribution, conference room presentation, school and corporate training environments.
* One HDMI input signal convert to one YPbPr + SPDIF + R/L or VGA + SPDIF sink device
* Supports video input: HDMI 1.2a
* Supports audio output: SPDIF (optical) + R/L analog
* Supports output: up to UXGA and 1080p (50/60Hz), the same format as input
* HDCP 1.2 protocol compliant
* LED indication: when source or sink is working, LED relative to is light
* No loss of quality
* Installs in minutes
* INCLUDES 5V DC/0.8A power supply
* Connect one cable from HDMI 1.2 sink into the converter input
* Connect VGA + SPDIF or YPbPr + SPDIF from monitor or projector into converter output
* Connect 5V power supply to the HDCRBG0102 converter
* HDMI resolution: 1.2a
* Input video signal: 0.5 to 1.5Vp-p
* Input DDC signal: 5Vp-p (TTL)
* VGA or YPbPr output: supports up to UXGA and 1080p (60Hz)
* Audio output: R/L analog and optical
* Maximum transmission bandwidth: 5.1Gbps
* Maximum working current: 600mA
* Power adapter formats:
* Input: 100 to 240V AC (50Hz, 60Hz)
* Output: 5V DC/0.8A
* Operating temperature range: -15 to +55C
* Operating humidity range: 5 to 90% RH (no condensation)
* Dimension (L x W x H): 174 x 70 x 20mm
* Weight: 750g