COVID-19 - We are Considered and Essential Business so our warehouses will Remain Open.
Sales and Support Personnel are working from home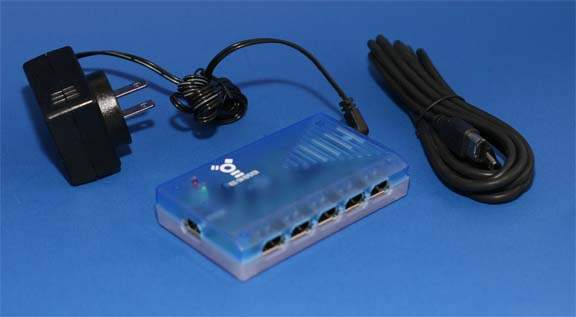 The IEEE 1394 Hub is an essential device for connecting a number of IEEE 1394 peripherals. For several FireWire devices, just use the IEEE 1394 Hub that is hot pluggable. The IEEE 1394 standard also provides new services such as real time I/O and live connect/disconnect capability for external devices including disk drives, printers, and hand-held peripheral such as scanners and also cameras. This unique device is also stackable.
---
IEEE 1394 6 port Hub
The IEEE 1394 Hub is an essential device for connecting a number of IEEE 1394 peripherals. For several FireWire devices, just use the IEEE 1394 Hub that is hot pluggable. The IEEE 1394 standard also provides new services such as real time I/O and live connect/disconnect capability for external devices including disk drives, printers, and hand-held peripheral such as scanners and also cameras. This unique device is also stackable.
Features:

Performs IEEE 1394 function with high speed of 100/200/400 Megabits per second
Enables a PC to connect consumer electronic devices by hot-plugging hookup
IEEE 1394-1995 compliant and compatible with proposal 1394a
Easy connection to your Digital camcorder, D8, scanner and VCRs
Link up to 63 devices
Supports plug & play specification
Connectors: 5 x IEEE 1394 6Pin + 1 x IEEE 1394 4Pin bus connector System Requirement:

IBM - Compatible PC & Mac
Pentium processor 200MHz or above
Connect FireWire drive to PC (either a built-in IEEE 1394 port or a PC card that adds IEEE 1394 functionality)
MS Windows; 98SE, 2000, XP, VISTA ,Mac OS 8.6 and above Package Includes:

IEEE 1394 6 Port Hub
Power Adapter
IEEE 1394 6P to 6P Cable
User's Manual