COVID-19 - PCCables.com is open for Business.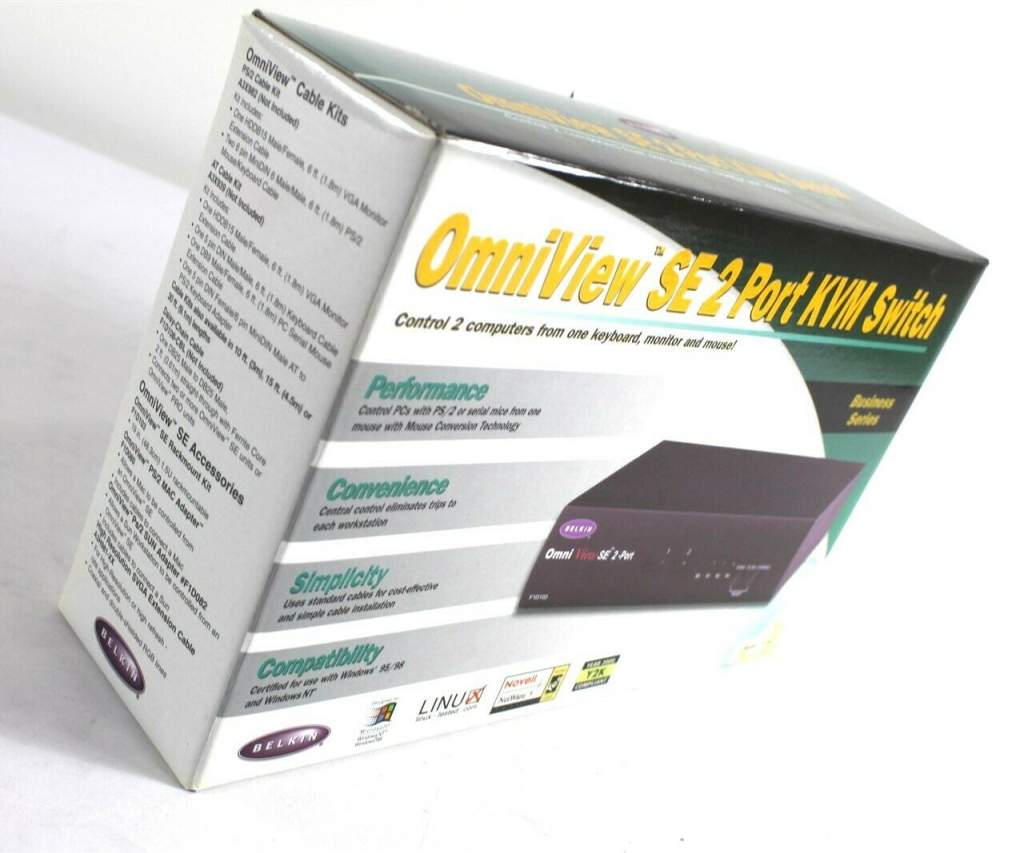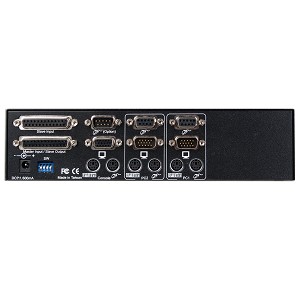 This Belkin OmniView SE F1D102 KVM switch allows you to control two computers from one keyboard, monitor and mouse!
With its integrated mouse conversion technology, you can use either a Serial or PS/2 mouse (please note cables are NOT included). The OmniView SE, when used as the central control, eliminates trips to each workstation. Other features of the F1D102 include push button hot key or auto scan switching and keyboard and mouse emulation for error-free boot-ups!
Features/Specifications:
* Belkin OmniView SE F1D102 2-Port PS/2 KVM Switch
* General Features:
* Control two computers from one keyboard, mouse and monitor (cables not included)
* Can handle video resolutions up to 1600 x 1200 @ 65 Hz
* Push button hot key or auto scan switching
* Keyboard and mouse emulation for error-free boot-ups
* Supports VGA, SVGA, and Multisync monitors
* Push button hot key or auto scan switching
* Integrated mouse conversion technologyv
* Front Panel Features:
* Back/Scan button
* Channel button
* 1 - 2 LEDs
* B0, B1, B2, B3 LEDs
* Rear Panel Features:
* Six (6) PS/2 ports
* Two (2) Parallel ports
* One (1) Male Serial port
* Two (2) Female Serial ports
* One (1) Female VGA connector
* Two (2) Male VGA ports
* DC in 9V, 600mA
* Unit Dimensions:
* 2.3 x 9.25 x 5.8-inches (H x W x D, approximate)
* Regulatory Approvals:
* FCC
* CE
Package Includes:
* Belkin OmniView SE F1D102 2-Port PS/2 KVM Switch
* User Manual
Additional Information:
* Notes:
* Model: OmniView SE
* P/N: F1D102
* UPC: 7 22868 23340 5
* Power Adapter NOT included
* Cables NOT included
* Requirements:
* Power Adapter
* Cables
Part #: F1D102
Warranty: 1 Year
Condition: New
Packaging: Retail Box
Ship Weight: 3.5 lbs
Manufacturer: Belkin
MFG Part #: F1D102
Model #: OmniView SE