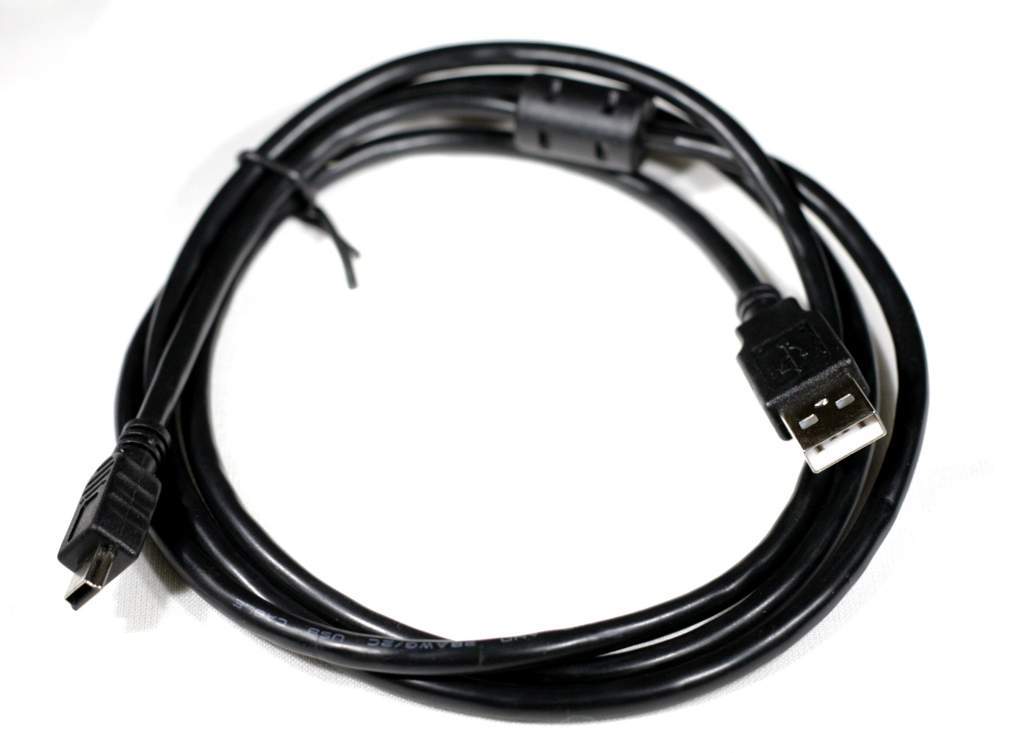 6 FT USB Mini Camera Cable
Compatible with SONY VMC-14UMB2 Cable
Premium Quality
Black Color Cable with Small RF Ferrite.
RoHS Compliant Material.
This professional Grade Cable Uses 2.0 Certified wire.
This connector design follows USB 2.0 Paper on Mini-B Connectors.
Used on 100's of Cameras.
See New Camera Cable Model Cross Reference on Left
Used also on a lot of Small Peripherals, MP3 Players, PDA's Etc..
Also all 5 - Contacts are in one row along the Bottom
4 of the 5 are connected according to USB 2.0
Connector Dim are 5/16" x 1/8"
Added to Catalog 06/01/2006
Revised on 02/15/2022


Designed and Sold by PCCABLES.COM INC Since 1996
---
Partial List of Compatible Devices
CAMERA
SONY
182393111
CCD-TRV608
CSS-TNA
CYBER-SHOT DOCK
DCR-C20E
DCR-DVD100
DCR-DVD100E
DCR-DVD101
DCR-DVD101E
DCR-DVD200
DCR-DVD200E
DCR-DVD201
DCR-DVD201E
DCR-DVD203E
DCR-DVD300
DCR-DVD403E
DCR-DVD505E
DCR-DVD7E
DCR-HC1000
DCR-HC14E
DCR-HC18E
DCR-HC19E
DCR-HC20
DCR-HC21
DCR-HC22E
DCR-HC26
DCR-HC30
DCR-HC30E
DCR-HC32E
DCR-HC38
DCR-HC39E
DCR-HC40
DCR-HC40E
DCR-HC42E
DCR-HC65
DCR-HC85
DCR-HC85E
DCR-HC90E
DCR-IP1
DCR-IP1E
DCR-IP220
DCR-IP220E
DCR-IP45
DCR-IP55
DCR-IP55E
DCR-IP7BT
DCR-IP7E
DCR-PC1
DCR-PC10
DCR-PC100
DCR-PC100E
DCR-PC101
DCR-PC101E
DCR-PC103E
DCR-PC105
DCR-PC105E
DCR-PC106E
DCR-PC107E
DCR-PC109
DCR-PC109E
DCR-PC110
DCR-PC115
DCR-PC120BT
DCR-PC120E
DCR-PC330
DCR-PC330E
DCR-PC350
DCR-PC350E
DCR-PC53E
DCR-PC55E
DCR-PC9
DCR-TRV140
DCR-TRV14E
DCR-TRV17
DCR-TRV18
DCR-TRV19
DCR-TRV19E
DCR-TRV22
DCR-TRV22E
DCR-TRV240
DCR-TRV245E
DCR-TRV25
DCR-TRV250
DCR-TRV250E
DCR-TRV25E
DCR-TRV260
DCR-TRV265E
DCR-TRV27
DCR-TRV270E
DCR-TRV285E
DCR-TRV30
DCR-TRV33
DCR-TRV330
DCR-TRV33E
DCR-TRV340
DCR-TRV340E
DCR-TRV350
DCR-TRV355E
DCR-TRV360
DCR-TRV38
DCR-TRV39
DCR-TRV40E
DCR-TRV460
DCR-TRV460E
DCR-TRV480E
DCR-TRV50
DCR-TRV50E
DCR-TRV530
DCR-TRV60E
DCR-TRV70
DCR-TRV730
DCR-TRV740
DCR-TRV740E
DCR-TRV80
DCR-TRV80E
DCR-TRV830
DCR-TRV840
DCR-TRV950
DPP-EX50
DPP-FP30
DPP-FP50
DSC-F707
DSC-F717
DSC-F77
DSC-F828
DSC-F88 **REQ-DOCK**
DSC-H1
DSC-H2
DSC-L1
DSC-P1
DSC-P10
DSC-P100 **REQ-DOCK**
DSC-P12
DSC-P150 **REQ-DOCK**
DSC-P2
DSC-P20
DSC-P200 **REQ-DOCK**
DSC-P3
DSC-P30
DSC-P31
DSC-P32
DSC-P41
DSC-P43
DSC-P5
DSC-P50
DSC-P51
DSC-P52
DSC-P7
DSC-P70
DSC-P71
DSC-P72
DSC-P73
DSC-P8
DSC-P9
DSC-P92
DSC-P93
DSC-P93A
DSC-R1
DSC-S40
DSC-S75
DSC-S85
DSC-U10
DSC-U20
DSC-U20/B
DSC-U20/LJ
DSC-U30
DSC-U40
DSC-U40/B
DSC-U40/R
DSC-U50
DSC-U60
DSC-V1
DSC-V3
DSC-W1
DSC-W1/B
DSC-W12
DSC-W15
DSC-W17
DSC-W5
DSC-W7
HDR-HC1E
MVC-CD200
MVC-CD250
MVC-CD300
MVC-CD350
MVC-CD400
MVC-CD500
MVC-FD100
MVC-FD200
MVC-FD92
MVC-FD97
VMC-14UMB
VMC-14UMB2