USB to VGA 2.0 - SVGA XGA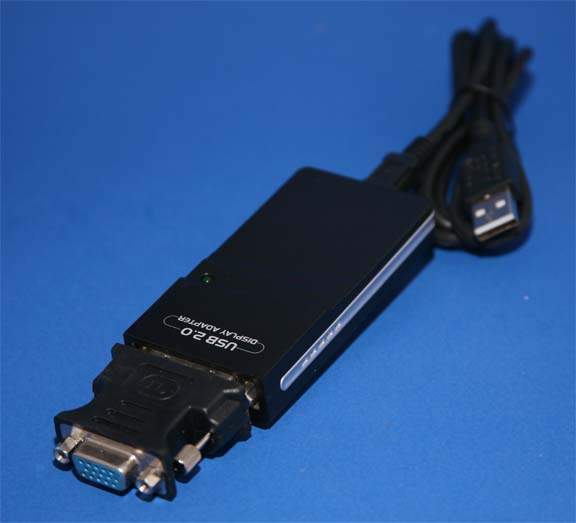 Description:
The USB 2.0 VGA Adapter enables you to connect any monitor, LCD, projector to your PC or notebook. You can use it as an extended desktop or as a larger/different display from your main screen. By using USB 2.0 technology, there is no need to open the computer or struggle with compatibility issues related to a second VGA card.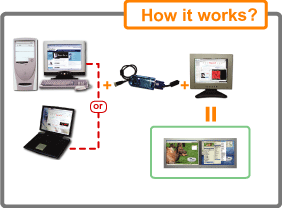 Extending your desktop has never been easier with the USB 2.0 to SVGA Adapter! Install the included software, plug in the adapter, and you are on your way to dual monitor computing. Now you can easily expand spreadsheets over two monitors, read e-mail on one monitor and view the attachment on the other, make multi-screen presentations without a second computer, or expand your graphics workstation.
The USB 2.0 to SVGA/DVI/HDMI Adapter is perfect for laptop users who do not have the capability of adding an extra video card. It is also a cost-effective solution for desktop users who do not want the hassles of installing an internal video card. USB 2.0 technology allows you to use this device with numerous computers versus an internal card that can only be used with one. Since this adapter is bus-powered, no additional power cables are needed. Whether you want to use the USB 2.0 to SVGA Adapter with your laptop or with your desktop, you will enjoy the ease of use and quality of picture this device delivers
Specifications:
Perfect for adding dual monitor capabilities to laptops and desktops
Compliant with USB 2.0 specifications
Data transfer rates of up to 480Mbps
Compliant with EHCI specification
Supports suspend and wakeup modes
Plug-and-play compliant
Compact design (1.8in x 4in)
Features :
What are the benefits and uses?
Office workstation:
View your large spreadsheets across two screens with display continuity
Multitask more effectively without overlapping windows
Open attachments on one screen while reading the e-mail on the other
On the road:
Do multiple screen displays and presentations without bringing another computer
Graphics workstation:
Use second display for pallets/tools
Editing workstation:
Type documents on one screen wile viewing reference material on the other
Wall Street:
Use a notebook for viewing multiple screens
View charts and live data at the same time
Entertainment:
View videos/TV on one screen and reviews on the other
Resolutions Supported :
1280 x 1024 at 8 or 16 Bits
1280 x 768 at 8,16 or 32 Bits
1152 x 864 at 8,16 or 32 Bits
1024 x 768 at 8,16 or 32 Bits
800 x 600 at 8,16 or 32 Bits
640 x 480 at 8,16 or 32 Bits
Connections:
USB A Male (to PC)
HD-15 Female (to monitor)
Will also work for DVI and HDMI Connections.
Requirements:
Windows 2000, Windows XP, Windows Vista, Windows 7, Windows 8
Available USB 2.0 port
Retail Package Content:
USB 2.0 VGA/DVI/HDMI Adapter
Installation Guide
CD Driver
UPC:820799706272