DVI 2 to 1 SIGNAL Switch DVI-D DVI-I DRM-1712F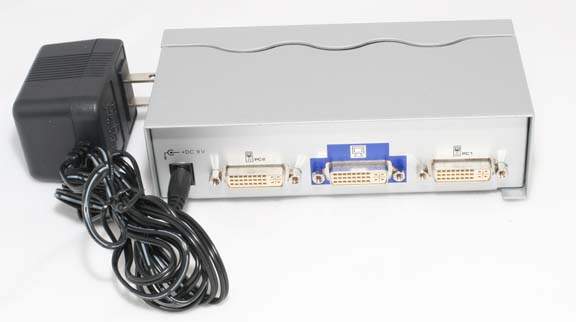 Up to two computers can share one flat panel, plasma monitor, projector or any video display with DVI port. This premium video selector has built-in signal booster up to 32ft to maintain video integrity and provides clear & sharp images. Ideal for presentations, classrooms, control center, remote monitoring & training facilities. Provides high resolution up to 1280x1024 60Hz, DDC2 support, status LEDs, front panel port selector. Includes power adapter and rack mount kit.
Features
---
Resolution up to 1280x1024.
Supports the DDC2 standard for all input ports.
Support DVI-I.
Hot plugging.
Auto skip over the power-off and unplugged cable.
Package Contents
---
1 Smart View DRM-1712F DVI Selector.
1 DC 9V 300mA Power Adapter.
1 User Manual.
Hardware Requirements
---
Monitor
One LCD, PLASMA monitor or projector with DVI input function.
PC or MAC
DVI output function.
Cable
DVI-D (for digital) or DVI-A (for analog) male to male Standard cable.
Specification


---

| | |
| --- | --- |
| CPU Connector | 2 DVI Female |
| Monitor Connector | 1 DVI Female |
| LED | |
| On Line | 2 |
| Selected | 2 |
| Select Switch | 2 |
| DVI Resolution | 1280x1024 |
| DC Power Adaptor | |
| Voltage | 9V |
| Amps | 300mA (Min.) |
| Housing | Metal |
| Weight | 475g |
| Dimensions | |
| Length | 153mm |
| Width | 75mm |
| Height | 42mm |