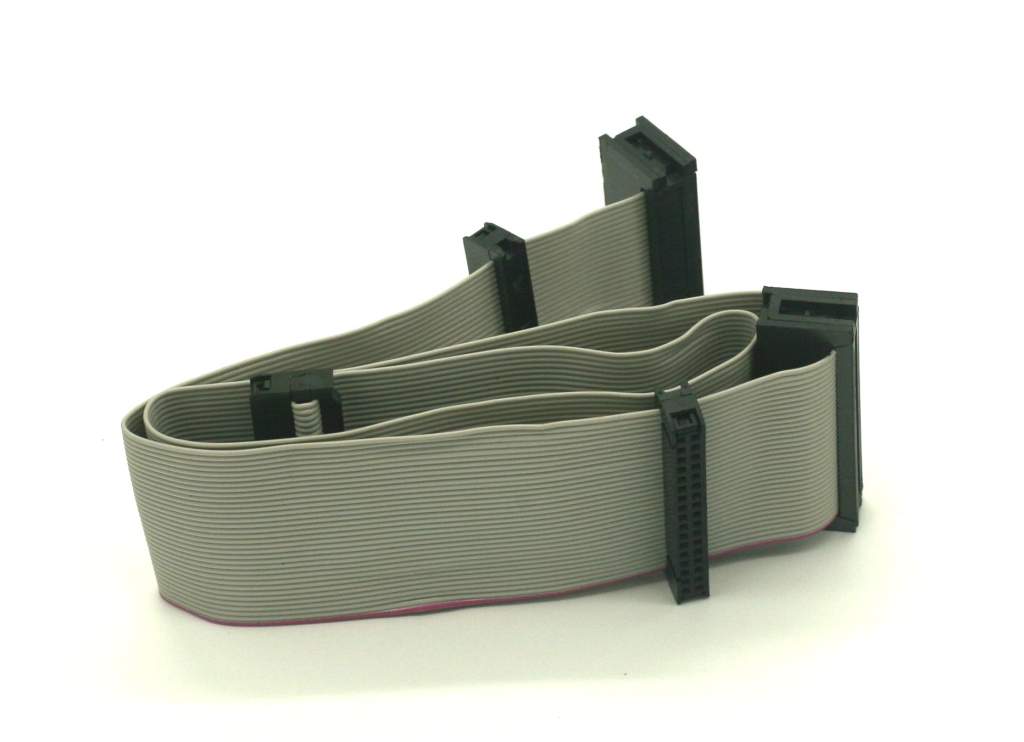 FDD Floppy Disk Drive Interface Cable 22 inch Cable
NEW VERY OLD STOCK APPROX 1996 STORED IN AC Warehouse.
These cables will work on as Far Back and an IBM PC or Old Compaq.
Double Drive 3.5 Inch 5.25 Inch Floppy Interface Drive A with Twist and Drive B.
Ribbon Cable with 34 Conductors.
Has Pin and Edge Connectors.
Floppy A Drive Cable Connection with Twist 34 Pin or Edge.
Floppy B Drive Cable Connection with No Twist 34 Pin or Edge.
Easy Floppy Drive Cable Install with this cable.
Just connect Cable to Main Board and to the Floppy Disk Drive interface connector on the Drive.
Floppy Disk Drive Cable
Floppy Drive A Pin Out


| Pin No. | Signal Name | Description |
| --- | --- | --- |
| 1 | Ground | -- |
| 2 | /REDWC | Density Select 1=Low/0=High |
| 3 | Ground | -- |
| 4 | N/C | Reserved |
| 5 | Ground | -- |
| 6 | N/C | Reserved |
| 7 | Ground | -- |
| 8 | /Index | 0=Index |
| 9 | Ground | -- |
| 10 | /MOTEA | 0=Motor Enable Drive 0 |
| 11 | Ground | -- |
| 12 | /DRVSB | Drive Select 1 |
| 13 | Ground | -- |
| 14 | /DRVSB | Drive Select 0 |
| 15 | Ground | -- |
| 16 | /MOTEB | 0=Motor Enable Drive 1 |
| 17 | Ground | -- |
| 18 | /DIR | 0=Direction Select |
| 19 | Ground | -- |
| 20 | /Step | 0=Head Step |
| 21 | Ground | -- |
| 22 | /WDATE | Write Data |
| 23 | Ground | -- |
| 24 | /WGATE | Floppy Write Enable, 0=Write Gate |
| 25 | Ground | -- |
| 26 | /TRK00 | 0=Track 00 |
| 27 | Ground | -- |
| 28 | /WPT | 0=Write Protect |
| 29 | Ground | -- |
| 30 | /RDATA | Read Data |
| 31 | Ground | -- |
| 32 | /SIDE1 | 0=Head Select |
| 33 | Ground | -- |
| 34 | /DSKCHG | 1=Disk Change/0=Ready |