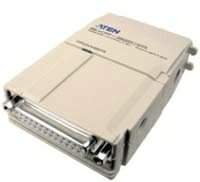 Connect your parallel device to serial port or serial device to parallel port.
Atenís high performance converter features both a DB25-F RS-232C (DCE) and a Centronics 36 Pin Male connection.
This unit supports both hardware and software (Xon/Xoff) handshaking.
ATEN Part # ATN-SXP320 Features:
Compact Size
Dip switches for direction setting
Easy installation
BiDirectional Operation.