COVID-19 - PCCables.com is open for Business.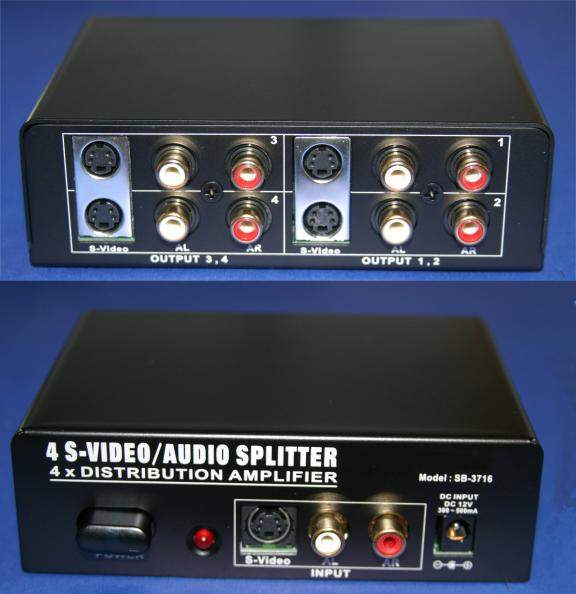 S-VIDEO or SVHS and RCA Composite Distribution Amplifier 4 outputs Y/C Video ,Stereo Right and Left
This 4 Output Distribution Amplifier splitter accepts Audio & S-Video signals and broadcasts them to multiple output devices (TV, monitor, home theater system, projector).

Features &Applications
These Audio/Video Splitters prevent picture degradation by actively driving each output with an amplifier, making this the ideal solution when running S-Video cable over distances greater than 10 feet, or when connecting multiple monitors. The same image is displayed on all outputs, with no degradation of signal.


Compatible with NTSC / PAL S-Video and stereo audio.
Auto Scan function.
> 10 MHz video bandwidth.
Input devices: DVD, VCR, satellite or cable receiver, video game system, security cameras.
Output Devices: TV, VCR, monitor, projector, stereo speakers.

Specifications
Inputs:

Type of Video: S-Video (Y/C).
Video Input: 0.3Vpp, 75 ohm.
Audio Input: Stereo (R+L), 40K input impedance
Input Terminals:
One S-Video 4 pin female Mini DIN connector.
One pair of RCA audio jacks (R&L).
Outputs:
Type of Video: S-Video (Y/C).
Video Output:0.3Vpp. 75 ohm.
Output Terminals:
4 S-Video 4 pin female Mini DIN connectors.
4 pairs of RCA audio jacks (right &left speakers).
Technical Information:
Video Bandwidth: > 10 MHz
Distortion: Video: < 1.2dB. Audio: < 0.6dB.
Channel Isolation: > 50dB.
Signal to Noise Ratio: < 50dB.
Power 110 VAC at 60 Hz via AC Adapter.

Package Includes:

Audio / S-Video Distribution Amplifier.
AC Adapter.
6-foot S-Video 4 pin Mini DIN cable.
User Manual.