COVID-19 - PCCables.com is open for Business.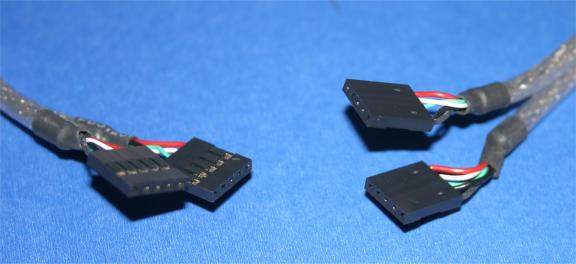 A PCCables.com Exclusive
Dual Port USB (Universal Serial Bus) Cable Us ed to Connect Dual Port on Main Board to Front Panel Connectors.
Has Dual 1x5 Configuration with No Key Pins.
32 Inch Long Jumper Cable.
This unit uses a USB 2.0 Rated cable.
Works fine on USB 1.1 and 2.0
Very Popular for Intel, Soyo and BioStar USB Ports
---

Cable Pin Out
USB Port-1
Pin	Color	What is Does
1	Red	+5 Volt
2	White	Port 0 Data-
3	Green 	Port 0 Data+
4	Black	Power Ground
5	Black	Ground

USB Port-2
Pin	Color	What is Does
1	Red	+5 Volt
2	White	Port 0 Data-
3	Green 	Port 0 Data+
4	Black	Power Ground
5       Black   Ground

Length of 32.00 Inches