Everything you wanted to know about Digital Camera Cables but where afraid to ask.

CLICK HERE to FIND a REPLACEMENT CAMERA CABLE
Why Why Why.
I ask these questions every time I see a new Design for camera cables.
Seems like the manufactures used to make lots of money replacing them with cables of $39.95 and More like the New Sony AV MULTI CABLE
I am going to break this down into three Categories.

1. Serial Camera Cables.

2. USB Camera Cables.

3. Firewire Camera Cables.

As no single manufacture seems to stick to a particular connector I am going to list some of the most popular connectors for each interface.
Its interesting to note that sometimes the same connect can be on a cable and it would be wired differently.
Lets Start at the Beginning.
Slow Digital Cameras came out with poor resolutions and very small pixel sizes.
As USB had not been invented the Manufacture decided to use the only other two way communication on the PC was the RS-232 Serial Interface. Well a DB9 connector was a little large for all cameras so the manufacuter used as standard small 3.5mm or 2.5mm Audio Connector. This worked great for small images.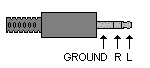 Well these worked ok Casio Even Made some cables that had signal boosters Built in SB-155.
Eventually time went on and Cameras where created with Reasonable Pixel Sizes and USB 1.1 was invented.
I figured great perhaps all the manfactures would use the same connector but no luck.
So out came approx 30 Different Connectors.
And here is a list of those I will be adding additional information as it becomes available.
If possible I have included a manufactures name if applicable.
Otherwise I have made up alot of the names throughout the years.
You will most likely see these on other sites that have copied our information.

1. USB Mini-B 5 Wire USB to Go Connector
2. USB Mini-B 4 Wire
3. USB Mini-B 4 Wire Flat
4. USB 8 Wire Single Cut
5. USB 8 Wire Double Cut
6. USB 8-Wire Flat
7. USB 4 Wire D-AV
8. USB 8 Wire Round
9. USB 8 Wire Round - Inward Indent
10. USB 4 Wire Flat Groove
11. USB 4 Wire Foxconn
12. USB Micro-B (released May 2007 from Hirose)
These are the most common.
The other models are used very rare and are very difficult to find in Replacement format.
Althought we do have some at Replacement USB Camera Cables at PCCABLES.COM
An Example would be Fuji FinePix F601 Cable We have spent thousands of hours assembling the following list please purchase you Replacement Camera Cable from PCCABLES.COM
Last but not least is the Firewire 1394 Interface for Cameras.
A Great interface with lots of speed.
Using Standardizied connectors 4p and 6p on Cameras.
Used primarily on High End Systems.
Never really caught on because the cost of implementation of Firewire on the Camera was Expensive.
Reminds me of the old Beta Format from Sony. Superior to VHS but never caught on
Firewire can be found in some great Digital Cameras Like the Canon Mark II

I hope you found this article on Replacement Camera Cable Connectors Entertaining.

Sincerely,

Jay F Kullmann

P.S. To Competitors Stop Stealing our Information. We seed our data with Fake model Numbers so we know who you are.




PCCABLES supplies 1000's of Replacement Digital Camera Cables Each Year.
These Cables are of the Highest Quality using USB ProGrade Cable with Ferrites.
Nikon Camera Cables
Kodak Camera Cables
FUJI Camera Cables
Olympus Camera Cables
Sony Camera Cables
HP Camera Cables
Konica Camera Cables
Toshiba Camera Cables
Casio Camera Cables
AGFA Camera Cables ARGUS Camera Cables Canon Camera Cables Casio Camera Cables Chronos Camera Cables Concord Camera Cables Epson Camera Cables Fuji Camera Cables Hitachi Camera Cables HP Camera Cables JVC Camera Cables Kodak Camera Cables Konica/Minolta Camera Cables Nikon Camera Cables Olympus Camera Cables Panasonic Camera Cables Pentax Camera Cables Polaroid Camera Cables Samsung Camera Cables Sanyo Camera Cables Sharp Camera Cables Sony Camera Cables Toshiba Camera Cables Vivitar Camera Cables