Replacement Cable for GENERIC Model CISCO_COMPATIBLE_CONSOLE_CABLE_6FT_RS232_CAB_CONSOLE_USB_RJ45
If you need to order a replacement cable for your CISCO_COMPATIBLE_CONSOLE_CABLE_6FT_RS232_CAB_CONSOLE_USB_RJ45 , made by GENERIC,
CLICK HERE

Device Type:
Manufacture (OEM): GENERIC
Model : CISCO_COMPATIBLE_CONSOLE_CABLE_6FT_RS232_CAB_CONSOLE_USB_RJ45
Our Part Number :
71011
Interface Type : POWER
Additional Information on Cables
List of all Replacement Cables by Manufacture.
USB to RJ45 to Program Routers Etcs.
Full support for Windows, MAC and Linux.
Microsoft (HCL) certified to be compatible with Windows, no CD needed because the drivers are part of the OS distribution.
Supports hardware flow control used to implement the CISCO break sequence.
FTDI FT232R chip + RS232 Level Shifter.
RJ-45 DTE Pinouts RTS(1), DTR(2), TXD (3), GND(4), GND(5), RXD (6), DSR(7), CTS(8)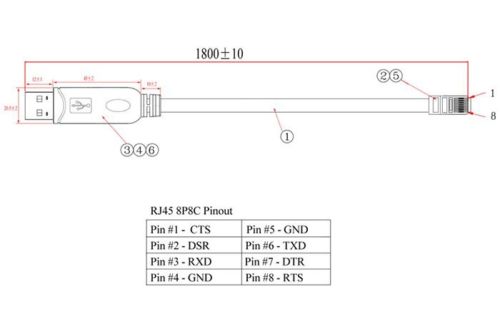 ---
Partial List of Compatible Devices
GENERIC
CISCO_COMPATIBLE_CONSOLE_CABLE_6FT_RS232_CAB_CONSOLE_USB_RJ45