Replacement Camera Cable for KONICA-MINOLTA Model DiMAGE X21
If you need to order a replacement cable for your DiMAGE X21 Camera, made by KONICA-MINOLTA,
CLICK HERE

Device Type: Camera
Manufacture (OEM): KONICA-MINOLTA
Model : DiMAGE X21
Our Part Number :
70581
Interface Type : USB
Additional Information on Camera Cables
List of all Camera Replacement Cables by Manufacture.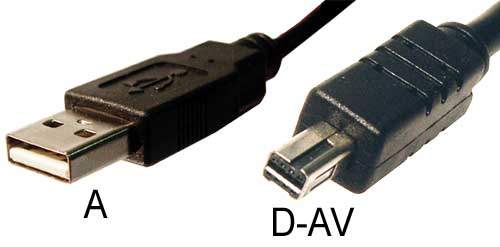 USB Camera Replacement Cable D-AV Model.
Very Difficult to find replacement cable for the Below Camera Models.
By Konica-Minolta, Panasonic, and Casio.
Has small 4-Pin Connector with a slot cut into it.

---
Partial List of Compatible Devices
CAMERA
CASIO
KONICA-MINOLTA
DiMAGE A1
DiMAGE A2
DiMAGE F100
DiMAGE F200
DiMAGE F300
DiMAGE X
DiMAGE X20
DiMAGE X21
DiMAGE X31
DiMAGE Xg
DiMAGE Xi
DiMAGE Xt
DiMAGE Z1
DiMAGE Z2
PANASONIC
Lumix DMC-FX5
Lumix DMC-LC50
Lumix DMC-LC70