COVID-19 - We are Considered an Essential Business so our warehouses will remain open.
Sales and Support Personnel are working from home.
We would like to thank all our Brave Nurses From All over the USA.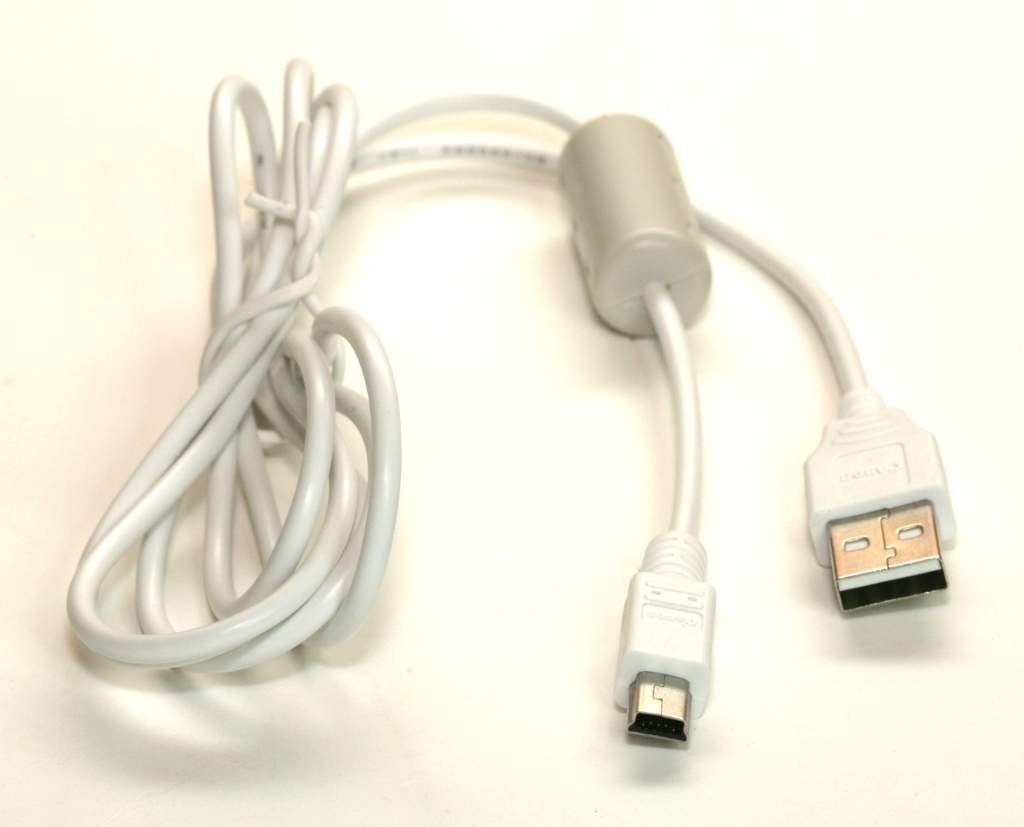 Canon OEM Camera Cable IFC-400PCU
Do not be fooled by other suppliers who offer a Thin Black cables with no Ferrite and No Shield.
Micro Ferrite RF Protection.
Premium Gold Plated Contacts.
Designed by Canon for the Professional Photographer at a Discount price.
USB 2.0 A to Mini- B Cable 6ft Long Silver
Downward compatible with USB specifications 1.0, 1.1, and 2.0
Construction:
Foil and braid shielding reduces EMI/RFI interference and twisted-pair construction
for reduced cross talk.
Passes all UL requirements for communication cabling, and is compatible with USB 1.0, 1.1, and 2.0.
RoHS Green.

---
Partial List of Compatible Devices
GENERIC
IFC_400PCU_CANON_CAMERA_CABLE_COMPATIBLE

CAMCORDER
CANON
VIXIA HF-G20
VIXIA HF-R20 Full HD

VIXIA HF-R21
VIXIA HF-R800
CAMERA
CANON
600D
650D
6D Mark II
700D
DC10
DC20
DC22
DC220
DC230
DC40
DC410 (USB)
DC420 (USB)
DC50
Digital IXUS 30
Digital IXUS 300
Digital IXUS 330

Digital IXUS 40
Digital IXUS 400
Digital IXUS 430
Digital IXUS 500

Digital IXUS 55
Digital IXUS 60
Digital IXUS 65
Digital IXUS 70
Digital IXUS 750
Digital IXUS 80 IS
Digital IXUS 800 IS
Digital IXUS 85 IS
Digital IXUS 860 IS
Digital IXUS 90 IS
Digital IXUS 900 IS
Digital IXUS 960 IS
Digital IXUS 970 IS

Digital IXUS i
Digital IXUS I Zoom

Digital IXUS i5
Digital IXUS i7 Cradle Only

Digital IXUS II
Digital IXUS IIs
Digital IXUS Wireless

Digital Rebel
Elura 100
Elura 40MC
Elura 50
Elura 60
Elura 65
Elura 70
Elura 80
Elura 85
Elura 90
EOS 10D
EOS 1D Mark II
EOS 1D Mark II N

EOS 1Ds
EOS 1Ds Mark II
EOS 1Ds Mark III

EOS 20D Digital
EOS 30D
EOS 400D
EOS 40D
EOS 5D
EOS 77D
EOS M100
EOS Rebel SL1
EOS Rebel T2i
EOS Rebel XS
EOS Rebel XSi
EOS Rebel XT
GL2
IDC-400PCU
IFC-200U
IFC-300PCU
IFC-400PCU GENERIC

Optura 10
Optura 20
Optura 200MC
Optura 30
Optura 300
Optura 40
Optura 400
Optura 50
Optura 500
Optura 60
Optura 600
Optura S1
Optura Xi
PowerShot A10
PowerShot A100
PowerShot A1000 IS

PowerShot A20
PowerShot A200
PowerShot A2000 IS

PowerShot A30
PowerShot A300
PowerShot A310
PowerShot A40
PowerShot A400
PowerShot A410
PowerShot A420
PowerShot A430
PowerShot A510
PowerShot A520
PowerShot A530
PowerShot A540
PowerShot A550
PowerShot A560
PowerShot A570 IS

PowerShot A580
PowerShot A590 IS

PowerShot A60
PowerShot A610
PowerShot A620
PowerShot A630
PowerShot A640
PowerShot A650 IS

PowerShot A70
PowerShot A700
PowerShot A710 IS
PowerShot A720 IS

PowerShot A75
PowerShot A80
PowerShot A85
PowerShot A95
PowerShot E1
PowerShot ELPH 150 IS
PowerShot ELPH 180
PowerShot ELPH 310 HS
PowerShot ELPH 320 HS
PowerShot ELPH 350 HS

PowerShot G10
PowerShot G11
PowerShot G3
PowerShot G5
PowerShot G6
PowerShot G9
PowerShot GI X
PowerShot N White

PowerShot Pro 1
PowerShot S1 IS
PowerShot S2 IS
PowerShot S3 IS
PowerShot S30
PowerShot S300
PowerShot S330
PowerShot S40
PowerShot S400
PowerShot S410
PowerShot S45
PowerShot S5 IS
PowerShot S50
PowerShot S500
PowerShot S60
PowerShot S70
PowerShot S80
PowerShot SD10
PowerShot SD100
PowerShot SD1000

PowerShot SD110
PowerShot SD1100 IS
PowerShot SD1300 IS
PowerShot SD1400 IS

PowerShot SD20
PowerShot SD200
PowerShot SD30
PowerShot SD300
PowerShot SD330
PowerShot SD400
PowerShot SD430
PowerShot SD450
PowerShot SD500
PowerShot SD550
PowerShot SD600
PowerShot SD630
PowerShot SD700 IS

PowerShot SD750
PowerShot SD770 IS
PowerShot SD800 IS
PowerShot SD850 IS
PowerShot SD870 IS
PowerShot SD880 IS
PowerShot SD890 IS

PowerShot SD900
PowerShot SD940
PowerShot SD950 IS
PowerShot SD960 IS
PowerShot SD970 IS
PowerShot SD990 IS
PowerShot SX10 IS
PowerShot SX100 IS
PowerShot SX110 IS
PowerShot SX160 IS
PowerShot SX170 IS
PowerShot SX260 HS
PowerShot SX280 HS
PowerShot SX50 HS
PowerShot SX500 HS
PowerShot SX510 HS
PowerShot SX520 HS
PowerShot SX530 HS
PowerShot SX700 HS
PowerShot SX710 HS

PowerShot TX1
S300 ELPH
Vicia HF R600
VIXIA HF R300
VIXIA HF R400
VIXIA HF R50
XL1
XL1s
ZR200
ZR300
ZR400
ZR45MC
ZR50MC
ZR600 (USB)
ZR65MC
ZR70MC
ZR830 (USB)
ZR85
ZR90
SCANNER
CANON