COVID-19 - We are Considered an Essential Business so our warehouses will remain open.
Sales and Support Personnel are working from home.
We would like to thank all our Brave Nurses From All over the USA.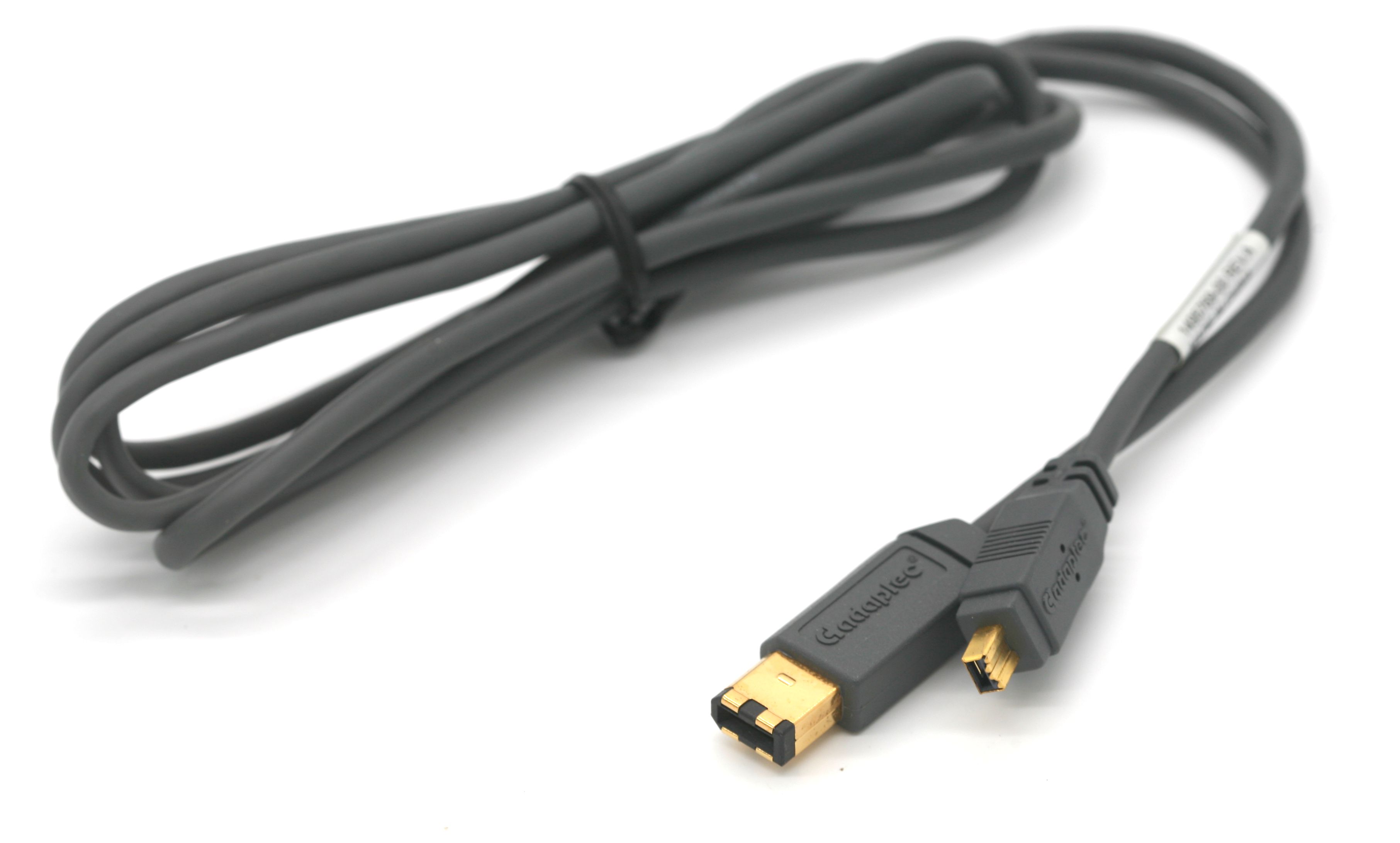 Ensure the highest performance and interoperability with the Adaptec 2020700 IEEE 1394 FireWire cable! Gold plated connectors and impedance matched twisted pair wiring provides the most durable, reliable cable.

The Adaptec 2020900 IEEE 1394 FireWire cable is designed for plug and play connections with external hard drives or daisy chaining 4-pin audio/video devices. This Adaptec FireWire cable provides high quality for video presentations, editing or any type of data intensive multimedia file transfer. Hook it up! Order today!

Features/Specifications:
Adaptec 6-Foot 6-pin to 4-pin IEEE 1394 FireWire Cable


General Features:
6-foot length
6-pin to 4-pin IEEE 1394 FireWire interface
24K Gold Plated contacts
Triple shielding
For use with Mobile Digital Video
Molded strain relief
Enhanced foil and triple shielding
Enhanced signal protection and data integrity
Package Includes:
Adaptec 6 Foot 6-pin to 4-pin IEEE 1394 FireWire Cable
Additional Information:
Notes:


P/N: 2020700
UPC: 7 60884 14073 4
Connects Firewire 6p Computers to camcorders with 4p Firewire Port.

---
Partial List of Compatible Devices
CAMCORDER
JVC
GR-D200US
GR-D250US
GR-D270US (FIREWIRE)
GR-D271US (FIREWIRE)
GR-D275US (FIREWIRE)
GR-D290US (FIREWIRE)
GR-D295US (FIREWIRE)

GR-D30US
GR-D31US
GR-D350US
GR-D370US
GR-D371US
GR-D375US
GR-D390US
GR-D395US
GR-D396US
GR-D70US (FIREWIRE)
GR-D90US (FIREWIRE)
GR-D91US (FIREWIRE)
GR-DF430US (FIREWIRE)
GR-DF450US (FIREWIRE)
GR-DF470US (FIREWIRE)
GR-DF550US (FIREWIRE)

GR-DV2000U
GR-DV3000U
GR-DV3U
GR-DV4000US
GR-DV500US (FIREWIRE)
GR-DV800US (FIREWIRE)

GR-DVF21U
GR-DVF31U
GR-DVL100U (FIREWIRE)

GR-DVL105U
GR-DVL107U (FIREWIRE)

GR-DVL120U
GR-DVL200U
GR-DVL300U (FIREWIRE)
GR-DVL305U (FIREWIRE)
GR-DVL307U (FIREWIRE)
GR-DVL310U (FIREWIRE)
GR-DVL500U (FIREWIRE)
GR-DVL505U (FIREWIRE)
GR-DVL510U (FIREWIRE)
GR-DVL520U (FIREWIRE)
GR-DVL522U (FIREWIRE)

GR-DVL600U
GR-DVL707U
GR-DVL725U (FIREWIRE)

GR-DVL800U
GR-DVL805U
GR-DVL815U (FIREWIRE)
GR-DVL820U (FIREWIRE)
GR-DVL822U (FIREWIRE)

GR-DVL9000U
GR-DVL915U (FIREWIRE)
GR-DVL920U (FIREWIRE)

GR-DVL9500U
GR-DVL9800U
GR-DVM50U
GR-DVM5U
GR-DVM70U
GR-DVM75U
GR-DVM80U
GR-DVM90U
GR-DVM96U (FIREWIRE)

GR-DVP3U
GR-DVP7U
GR-DVP9US
GR-DX300US (FIREWIRE)
GR-DX75US (FIREWIRE)
GR-DX95US (FIREWIRE)
GR-DZ7US (FIREWIRE)

GR-HD1US
GV-DT1U
GY-DV300U
HD-52G786
HD-52G886
HD-56FC97
HD-56FH96
HD-56FH97
HD-56G786
HD-56G886
HD-61FC97
HD-61FH96
HD-61FH97
HD-70FH96
HD-70FH97
JY-HD10US
JY-VS200U
LT-26X776
LT-32X776
LT-40FH96
LT-40FH97
LT-40X776
LT-46FH97
PD-42X776
PD-42X795
PD-50X795