GR-DVL720U Replacement Cable Product Tech Sheet
PCCABLES.COM Sells Replacement Cables for 1000's of Camera Models Including the ones made for JVC.
Better than Factory Original Quality Cables.
PCCables has been building replacement USB Camera cables since before 1990.
Get you Camera cable at wholesale prices. Discount Shipping Options available for USB Digital Cameras.
If you need to order a replacement cable for your GR-DVL720U Camera, made by JVC,
please visit our website at GR-DVL720U

Device Type: Camera
Manufacture (OEM): JVC
Jvc Drivers Location:
agfaphoto.com
Model : GR-DVL720U
Our Part Number : 70517
Interface Type : USB
Additional Information on Camera USB Cables
A General List of all Camera Replacement Cables.
Trademarks are of Respective Manufactures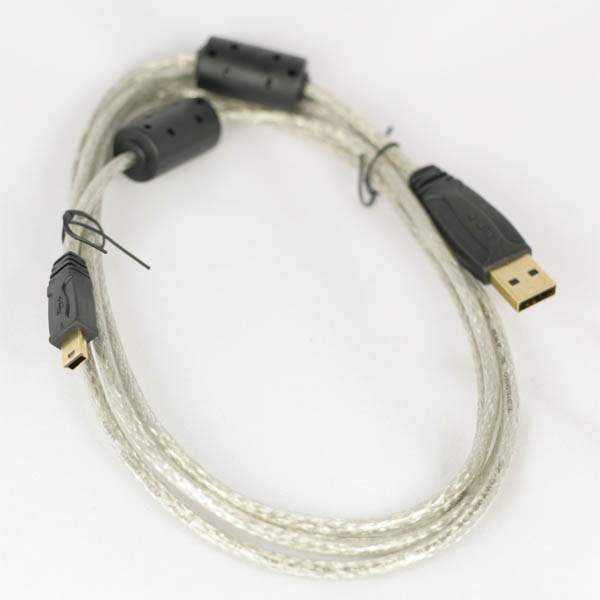 USB 2.0 Digital Camera Cable
Replacement USB Camera Cable
New Gold Plated Design with Dual Ferrites Added 01/23/2004
This Professional Grade Camera Cable Uses 2.0 Certified wire.
This connector design follows USB 2.0 Paper on Mini-B Connectors.
Used on 100's of Cameras.
See New Camera Cable Model Cross Reference on Left
Used also on alot of Small Perpherials, MP3 Players, PDA's Etc..
Also all 5 - Contacts are in one row along the Bottom
4 of the 5 are connected according to USB 2.0
Connector Dim are 5/16" x 1/8"


Other Items of Interest:
15 FT USB-A to Mini-B Part 70568
12 IN USB-A to Mini-B Part 70576
6 FT USB-A to Mini-B Standard Cable Part 70516
---
Partial List of Compatible Devices
CAMCORDER
PANASONIC
HDC-DX3
HDC-HS350
HDC-HS9
CAMERA
ACER
AGFA
AIPTEK
IS DV
Pocket DV4100
Pocket DV4100M
Pocket DV4500
Pocket DV5100M
Pocket DV5700
Pocket DV5900
PocketCam 4000
PocketCam X
ZOOM DV
CASIO
GV-10
GV-20
QV-20
QV-4000
QV-4000X
QV-5000SX
QV-5700
QV-R3
QV-R4
QV-R40
QV-R51
QV-R62
CHRONOS
CONTAX
FISHER-PRICE
Kid-Tough Blue
Kid-Tough Pink
GATEWAY
DC-M40
DC-M42
DC-M50
DC-T20
DC-T23
DV-S20
GOPRO
HITACHI
DZMV200A
DZMV230A
DZMV270A
DZMV350A
DZMV380A
HP
8121-0637
CameraDock 8881
CameraDock 8886
PhotoSmart 120
PhotoSmart 120CSE
PhotoSmart 120v
PhotoSmart 120xi
PhotoSmart 318
PhotoSmart 318SE
PhotoSmart 318xi
PhotoSmart 320
PhotoSmart 320v
PhotoSmart 320xi
PhotoSmart 433
PhotoSmart 433v
PhotoSmart 433xi
PhotoSmart 435
PhotoSmart 435v
PhotoSmart 435xi
PhotoSmart 612
PhotoSmart 612Cxi
PhotoSmart 612xi
PhotoSmart 618
PhotoSmart 620
PhotoSmart 620v
PhotoSmart 620xi
PhotoSmart 635
PhotoSmart 635v
PhotoSmart 635xi
PhotoSmart 715
PhotoSmart 715Cxi
PhotoSmart 715v
PhotoSmart 715xi
PhotoSmart 720
PhotoSmart 720v
PhotoSmart 720xi
PhotoSmart 733
PhotoSmart 735
PhotoSmart 735ps
PhotoSmart 735v
PhotoSmart 735xi
PhotoSmart 850
PhotoSmart 850xi
PhotoSmart 8881 CameraDock
PhotoSmart 8886 CameraDock
PhotoSmart 912
PhotoSmart 912v
PhotoSmart 912xi
PhotoSmart 935
PhotoSmart 935v
PhotoSmart 935xi
PhotoSmart 945
PhotoSmart 945v
PhotoSmart 945xi
PhotoSmart E217
PhotoSmart E317
PhotoSmart M22
PhotoSmart M23
PhotoSmart M305
PhotoSmart M305v
PhotoSmart M307
PhotoSmart M307v
PhotoSmart M307xi
PhotoSmart M407
PhotoSmart M407v
PhotoSmart M415
PhotoSmart M425
PhotoSmart M437
PhotoSmart M440
PhotoSmart M447
PhotoSmart M447v
PhotoSmart M525
PhotoSmart M527
PhotoSmart M537
PhotoSmart M540
PhotoSmart M627
PhotoSmart M630
PhotoSmart R607
PhotoSmart R707
PhotoSmart R707v
PhotoSmart R707xi
PhotoSmart R717
PhotoSmart R725
PhotoSmart R725v
PhotoSmart R725xi
PhotoSmart R727
PhotoSmart R742
PhotoSmart R742v
PhotoSmart R817 (Cradle Only)
PhotoSmart R818
PhotoSmart R827
PhotoSmart R837
PhotoSmart R847
PhotoSmart R937
JVC
GR-D201US
GR-D230US
GR-D270US
GR-D271US
GR-D275US
GR-D290US
GR-D295US
GR-D70US
GR-D71US
GR-D72US
GR-D73US
GR-D74US
GR-D90
GR-D90US
GR-D91US
GR-D93US
GR-D94US
GR-DF430US
GR-DF450US
GR-DF470US
GR-DF550US
GR-DV500US
GR-DV800US
GR-DV801US
GR-DVL510U
GR-DVL512U
GR-DVL520U (USB)
GR-DVL522U (USB)
GR-DVL720U
GR-DVL725U
GR-DVL815U
GR-DVL817U
GR-DVL820U
GR-DVL822U
GR-DVL915U
GR-DVL920U
GR-DVM76U
GR-DVM96U
GR-DX300US
GR-DX307US
GR-DX75US
GR-DX77US
GR-DX95US
GR-DX97US
GR-DZ7US
GR-X5US
GZ-MC100US
GZ-MC200US
GZ-MC500US
GZ-MG37EK
GZ-MG37U
QAM0324-001
QAM0538-001
KONICA-MINOLTA
DiMAGE E223
DiMAGE G400
DiMAGE G530
REVIO KD-100Z
REVIO KD-25
USB-810
KYOCERA
FineCam L3V
FineCam M410R
FineCam S3
FineCam S3L
FineCam S5
FineCam S5R
FineCam SL300R
LEICA
Digilux 1
Digilux 2
Digilux 3
LEIXA
Zoom Flex-10
Zoom Flex-2
Zoom Flex-5
OLYMPUS
C-150
C-150 Zoom
C-160 Zoom
C-2 Zoom
C-220 Zoom
C-300 Zoom
C-350 Zoom
C-380
C-380 Zoom C-390
C-4000 Zoom
C-4100
C-4100 Zoom
C-450 Zoom
C-450 Zoom del Sol
C-460 Zoom
C-50 Zoom
C-5000 Zoom
C-5050 Zoom
C-5060 Wide Zoom
C-520 Zoom
C-550 Zoom
C-60 Zoom
C-7070 Wide Zoom
C-720 Ultra Zoom
C-725 Ultra Zoom
C-730 Ultra Zoom
C-740 Ultra Zoom
C-750 Ultra Zoom
C-755 Ultra Zoom
C-760 Ultra Zoom
C-765 Ultra Zoom
C-770 Ultra Zoom
C-8080 Wide Zoom
CBUSB4
D-380
D-390
D-395
D-520 Zoom
D-535 Zoom
D-540 Zoom
D-550 Zoom
D-555 Zoom
D-560 Zoom
D-565 Zoom
D-575 Zoom
D-580 Zoom
D-590 Zoom
E-1
Evolt E-300
FE-100
FE-110
FE-170
FE-210
Ferrari Camera Dock
IR-300
IR-500
Olympus Compatible CB-USB4
Stylus Digital 300
Stylus Digital 400
Stylus Digital 410
u-10
u-15
u-20
u-25
u-30
u-300
u-400
u-410
X-1
X-2
X-200
X-250
X-300
X-400
PENTAX
I-USB6
Optio 330RS
Optio 430RS
RICOH
Caplio GX
Caplio GX100
Caplio GX8
Caplio R1976
Caplio R4
Caplio R5
Caplio R6
Caplio R76
Caplio RR30
SAMSUNG
370522
AD39-00073A
AH39-00498AG
AH39-00589AG
Digimax 101
Digimax 200
Digimax 201
Digimax 202
Digimax 230
Digimax 240
Digimax 250
Digimax 255
Digimax 300
Digimax 301
Digimax 330
Digimax 340
Digimax 360
Digimax 401
Digimax 410
Digimax 420
Digimax 50 DUO
Digimax 530
Digimax 800K
SCD103
SCD107
SCD180
SCD23
SCD24
SCD263
SCD27
SCD29
SCD303
SCD33
SCD34
SCD353
SCD362
SCD363
SCD364
SCD365
SCD366
SCD39
SCD453
SCD5000
SCD590
SCD6040
SCD6550
SCD86
SCD903
SCD963
SCD965
SCDC163
SCL700
SCL770
SCL870
SCL901
SCL907
SCM105
SCM110
SCMM10S
SCX105L
SHARP
SIGMA
SD-1
SD-10 (USB)
SD-14 (USB)
SD-15
SD-9 (USB)
SIPIX
SONY
DSC-S500
DSC-S600
DSC-T7 (Req DOC Adapter)
DSLR-A330
DSLR-A380
DSLR-A390
TOSHIBA
PDR-M500
PDR-M700
PDR-T10
PDR-T20
PDR-T30
TRAVELER
HARDDRIVE
BUSLINK
MP3
ARCHOS
Jukebox FM Recorder 20
Jukebox Multimedia 10
ONDIO
CLASSIC
COWON
A2
iAudio G2
iAudio G3
iAudio M3 (Cradel Only)
iAudio U2
iAudio X5 (Cradel Only)
iAudio X5L
CREATIVE
Nomad Jukebox 2
Nomad Jukebox Zen
Nomad Jukebox Zen NX
Nomad Jukebox Zen USB 2.0 20GB
Nomad Jukebox Zen USB 2.0 60GB
Nomad Jukebox Zen Xtra
Nomad MuVo2
PHILIPS
Nike psa128max
Nike psa64
psa256max
RUSH SA220
RUSH SA230
RUSH SA235
RUSH SA238
RCA
RD1020
RD1021
RD1070
RD1071
RD1080
RD2760
RD2780
RD2800
RD2820
RD2821
RD2840
RD900W
RIO
Cali 128
Cali 256
Carbon
Chiba 128
Chiba 256
Eigen
Forge
Nitrus
Rio One
SAMSUNG
Digimax 35 MP3
YP-35
YP-55V
YP-60V
YP-MT5H
YP-MT5V
YP-MT6H
YP-MT6V
YP-MT6X
YP-MT6Z
YP-T6X
YP-T7JX
YP-T7JZ
YP-T7X
YP-T7Z
SONY
MZ-420D
MZ-N420D
MZ-N505
MZ-N510CK
MZ-N707
MZ-NE410
MZ-NF520D
MZ-NF810CK
MZ-NH600D
MZ-S1
MZ-S2
MZ-Sports
NetMD
PDA
BLACKBERRY
6210
6230
6280
6510
7100g
7100i
7100r
7100t
7100v
7100x
7105t
7210
7230
7250
7280
7290
7510
7520
8700c
8700g
8700r
8700v
CURVE
PHONE
MOTOROLA
C290
C331g
C332
C333g
C650
PEBL
RAZR V3
RAZR V3c
RAZR V3m
SKN6371
SKN6371C
SLVR L7
V180
V188
V195
V220
V325
V360
W233
RECORDER
SAMSON