Replacement Camera Cable for PANASONIC Model Lumix DMC-FX65
If you need to order a replacement cable for your Lumix DMC-FX65 Camera, made by PANASONIC,
CLICK HERE

Device Type: Camera
Manufacture (OEM): PANASONIC
Panasonic Drivers Location:
panasonic.com
Model : Lumix DMC-FX65
Our Part Number :
71545
Interface Type : USB
Additional Information on Camera Cables
List of all Camera Replacement Cables by Manufacture.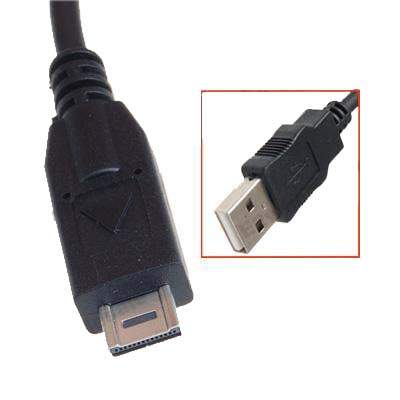 USB Camera Cable Replacement Lumix Panasonic
This is the Replacement Camera Cable for many Lumix cameras made by Panasonic. It has a very Odd 14p USB Connector on the one Side and the Standard USB-A Connector on the Other. Cable is used to Transfer Images from Camera to Computer.

---
Very Hard to Find Panasonic 14p USB Camera Cable.
OEM Part Number: K1HA14AD0001
OEM Part Number: K1HA14AD0003
OEM Part Number: K1HY14YY0008
OEM Part Number: DMCFT1
Some Model Numbers:
DMC-FT1, DMC-FT1A, DMC-FT1D, DMC-FT1G, DMC-FT1S, DMC-FT1EB-S, DMC-FT1EB-A, DMC-FT1GC, DMC-FT1GJ, DMC-TS1GH, DMC-FT1SG, DMC-FZ35, DMC-FZ38, DMC-GH1, DMC-GH1K, DMC-GH1N, DMC-GH1R, DMC-GH1KEB-K, DMC-GH1KEB-R, DMC-GH2H, DMC-GH2K, DMC-GH2, DMC-TS1, DMC-TZ6, DMC-TZ6S, DMC-TZ6K, DMC-TZ6EB-K, DMC-TZ6EB-S, DMC-TZ7, DMC-TZ7S, DMC-TZ7K, DMC-TZ7A, DMC-TZ7T, DMC-TZ7R, DMC-TZ7EB-R, DMC-TZ7EB-K, DMC-TZ7EB-S, DMC-TZ7EB-T, DMC-TZ65, DMC-ZS1, DMC-ZS3

---
Partial List of Compatible Devices
GENERIC
LUMIX_ZS8_USB_CABLE_K1HY08YY0017
CAMERA
PANASONIC
K1HA14AD0001
K1HA14AD0003
K1HY08YY0017
Lumix DMC-FT1
Lumix DMC-FT2
Lumix DMC-FX65
Lumix DMC-FZ100
Lumix DMC-FZ35
Lumix DMC-FZ38
Lumix DMC-GH1
Lumix DMC-TS1
Lumix DMC-TS2
Lumix DMC-TZ10
Lumix DMC-TZ6
Lumix DMC-TZ65
Lumix DMC-TZ7
Lumix DMC-ZS1
Lumix DMC-ZS3
Lumix DMC-ZS6
Lumix DMC-ZS7
Lumix DMC-ZS8